Big noses may not look appealing but look weird on the face. You might have seen numerous Hollywood celebrities with big noses, and they may not feel uncomfortable with this. Plastic surgery culture among celebrities is getting stronger, and the majority are heading towards getting rid of the big noses. Here in this blog, we will share those actresses with big noses. There are numerous female celebrities with big noses, and it's great to see such faces in this industry. Have a look
8 Female Celebrities with Big Noses
1. Uma Thurman
Born: April 29, 1970 (age 52 years)
Height: 1.8 m
Spouse: Ethan Hawke (m. 1998–2005), Gary Oldman (m. 1990–1992)
She is a great example where she has proved that the big nose factor won't make you feel uncomfortable or weird. She has a big nose which looks good with big eyes. A dense eyebrow makes her look best and a warm mouth adds a magical appearance to her look. She can flaunt her beauty as much as she can. She was born on April 29, 1970, and is one of the famous models with big noses who have done various films, from romantic comedies to science fiction dramas. She got the miniseries hysterical blindness award in Golden Globe Award. Her look was getting dull with her big nose, but she didn't step backward and got famous among fans because talent doesn't matter how you look.
2. Lea Michele
Born: August 29, 1986 (age 35 years)
Height: 1.59 m
Spouse: Zandy Reich (m. 2019)
Lea Michele is one of the best actresses known for her performance as Rachel Berry and got Golden Globe, Grammy, and SAG award-winning television series. She is a versatile young lady and has done so many roles. In her acting work, singing, or writing something new, she always gets appreciation from her fans. She looks stunning among actresses with a large nose. Once in an interview, she revealed some of her friends having big noses went for surgery to make them small and perfect. She also wanted to go for surgery but her mother didn't allow her. You will be mesmerized by her beauty when you see her beautiful pictures over the internet.
3. Nia Vardalos
She is a Greek Canadian actress, screenwriter, director, and producer famous for her different works. She is known for numerous romantic comedy films for different nominations for Academy Award for best original screenplay and the Golden Globe award for best actress. She looks stunning with a big nose, and people still appreciate her looks. Nia Vardalos doesn't believe in any kind of cosmetic surgery to look stunning. There is no need to correct and modify original skin with surgeries.
4. Meryl Streep
Meryl Streep won three academy awards. She is considered one of the best actresses and known for versatile acting. She also has a big nose, but she hasn't felt ashamed of it because she is here with hard work and this is why her fans love her so much. Meryl is known as a top Hollywood actress, and she is one of those who keep on reinventing herself. She has proved herself with not only experience but with talent as well. Once in an interview, she revealed, "I was an ugly child with a big mouth and long nose". Self-doubt made her way to intellectual and emotional growth. Acting helped her overcome their fears and find out the strongest version.
5. Cate Blanchett
Cate is an Australian celebrity woman with a big nose and blue eyes. One of her class fellows called her unattractive and frog because of her big mouth. She used to think of herself as ugly because of her big ears. Her eyes looked like narrow slits and a long nose. Despite all these facts, she looks pretty good in magazine pictures. Now she is in her 50s and not much more concerned about her look, and she never bothered with all of these things in her appearance. She gained so much success with her talent, and now she is completely avoiding these complexes.
6. Lady Gaga
We all know about lady gaga, who has so much confidence in her looks and keeps on trying different looks. She always shows different types of makeup to her fans. Lady Gaga is known for her scandalous looks, and she has been seen with weird constructions on her head and crazy outfits over her body. She was one of those celebs with long noses. We can see how much Lady Gaga is ambitious to look spectacular, and mostly, these things can make her crazy and seem bold. She has done rhinoplasty, which can be clearly seen in the latest pictures because she is compassionate about looks. It can be seen in the latest pictures.
7. Rossy De Palma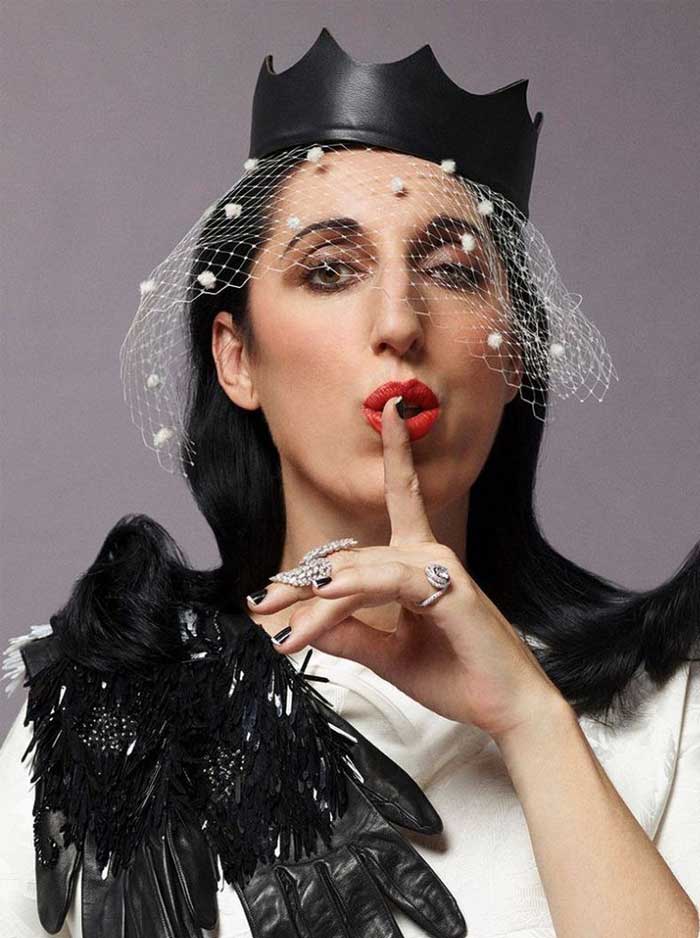 Rossy has been trolled a lot for her looks and no doubt her long nose, but her charm, uniqueness, and talent make her a favorite of their admirers. Director Pedro Almodovar was the one who brought her to the industry. She was seen once working in Madrid's café where she was doing a part-time job as a singer. Her energy was unmatchable, and this is why the director decided to take a chance on her despite her non-standard appearance. She is currently 57 and doesn't pay attention to all her looks related to controversies.
8. Sofia Coppola
She is one of the versatile directors, producers, and actresses with a big nose. She was featured in various movies, and her long nose didn't bother anyone at any stage. She is always happy with her natural looks, and when you see her images, she is always smiling for different reasons.
Do Women With Big Noses Look attractive?
Many of you might have been seeing this for so long that celebrities and other women are heading towards rhinoplasty to reduce the issue. Do you know women can look attractive with big noses? It doesn't mean women are less attractive with big noses. There are so many models from Dior and Proenza Schouler to Yves Saint Laurent and Kate spade everyone has a big nose in various fashion campaigns.
It can be clearly seen in the Hollywood industry that looks don't matter but talent does. Various celebrities are always trolled by admirers for different appearances and even though some celebrities have faced mental health problems due to trolling. It can be seen clearly on various social media platforms where fans always appreciate the talent and work rather than the nose and other body parts. This was all about for other people to take inspiration from these women to achieve their milestones in their careers. These are the celebrities with big noses, and they didn't lose confidence at different stages of life.