We all want to have healthy and good-looking skin. While a lot of skincare products promise to make your skin look brighter, healthier, and smoother, only a few of them deliver results. In fact, a lot of popular skincare lines contain harsh ingredients that irritate sensitive skin. If you want to take care of your skin and overall beauty, make sure to use tried-and-true products that will nourish and rejuvenate your skin, rather than cause dryness and irritation.
Avene is a world-famous brand that offers high-quality skincare products that soothe and hydrate your skin. The secret to their effective formulas is the health-giving Thermal Spring Water which is present in every product.
About the Brand
Avene is a well-known brand that dermatologists all around the world suggest for those who have sensitive or troubled skin. It started up as a Hydrotherapy Centre when locals discovered the Thermal Spring Saint-Odile around 270 years ago. Its Thermal Water helped treat a variety of skin conditions, so a team of scientists decided to do further research on it. This led to the creation of the Avene products we know and love today.
Thermal Spring Water is used in each of the company's products to soothe, soften, and relax the skin. This brand is committed to improving the quality of life for people with all skin types by addressing sensitive skin. They develop high-quality products by combining their pharmaceutical and dermatological skills.
Their dermatological laboratories thoroughly examine each composition to ensure its safety and acceptability. Dermatologists assist in product development as well as pre-clinical and clinical testing on a large number of patients. Scientists look at the ingredients in their recipes as well as the toxicological profiles of each one. To protect the safety of delicate skin, they conduct all clinical studies under the supervision of a physician.
Avene's Thermal Spring is located in the Haut-Languedoc Regional Park in southern France. Because of its pure biodiversity and low human activity, this water is safe from contamination and pollution.
What Are Some of Avene's Bestsellers?
Avene's products are ideal for skin that's dry, hypersensitive, prone to redness, or aging skin. They also help soothe skin affected by eczema, acne, or cancer, as well as skin in post-procedure therapy. Here are several bestsellers that might come in handy as a part of your skincare routine:
Lipid-Replenishing Cleansing Oil — A mild cleanser that locks in moisture and keeps your skin from drying out. It forms a protective barrier while leaving your skin's natural microbiota intact. This Avene cleanser has no animal-derived ingredients, perfumes, soaps, alcohols, or parabens. It's completely safe for your entire family to use. It has skin-friendly properties for both you and your children
Cicaflate + Restorative Protective Cream – Whether you're struggling with a certain skin condition, or you want to rejuvenate your dry and sensitive skin, getting this popular Avene moisturiser is a smart thing. Suitable for the whole family, this cream is designed for delicate and sensitive skin. It improves the way your skin looks by intensely moisturizing it. This multipurpose cream is free of scents, parabens, and alcohol, and won't clog your pores.
Physiolift Eyes Contour – This Avene eye cream moisturizes and nourishes the eye contour. It gives the appearance of a firmer eye area, while the Thermal Spring water softens and calms your skin.
Thermal Spring Water Spray – This product softens and soothes your sensitive skin. It restores the pH balance of your skin and feeds it with minerals. This product is fragrance-free, paraben-free, and alcohol-free, and it instantly refreshes and soothes your skin.
How Was the Avene Thermal Spring Discovered?
The origins of this world-famous brand date back to 1736 in Avene, France, near the Orb River. The local Marquis of Rocozels had a horse who was suffering from alopecia. To ease its itchy skin, he rolled in the spring water on a regular basis. After a while, the Marquis identified the beneficial properties of the Thermal Spring. According to him, the horse's coat was soon restored to its former shiny and healthy state.
The Marquis then established the first Thermal Spring Water baths based on the water's undeniable qualities. Patients with skin conditions such as atopic dermatitis, eczema, psoriasis, and burns were frequent visitors.
How Does the Avene Thermal Water Benefit Your Skin?
The Montpellier Academy of Medicine, Europe's dermatological authority, recognizes the Thermal Spring Water for its medical properties and efficacy. The Avene Hydrotherapy Centre is known for its calming properties when it comes to treating skin problems. The French government declares Thermal Spring Water to be of official public benefit in the year 1847.
The Avene Hydrotherapy Centre was purchased by Pierre Fabre Laboratories, France's second-largest private pharmaceutical company, in 1975. Pierre Fabre introduces the Centre to medicine and science after years of research on the health-giving effects of thermal water on delicate and fragile skin.
Launching the Eau Thermale Product Line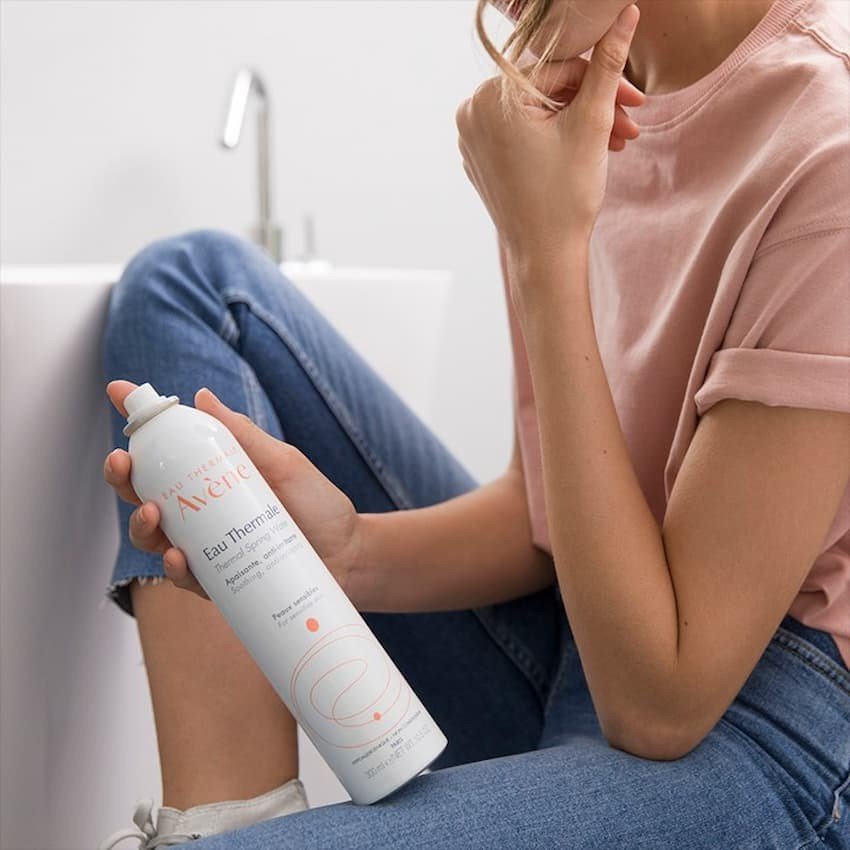 In the year 1990, Avene releases its first products. They were created at a manufacturing plant built atop the Spring to prevent the water from being transferred. They gave birth to the first sterile, preservative-free treatment for allergic skin 20 years later.
On the Thermal Water, the Site includes a scientific research institute that performs clinical assessments of over 170 studies, research testing, and scientific communication. Avene's Hydrotherapy Centre received the Aquacert HACCP Thermalisme certificate, which emphasizes adherence to outstanding hydrotherapy standards, and was the first in France to receive such a certificate.
Avene's Thermal Water is a natural remedy for radiant, healthy skin, especially for those that struggle with skin problems. Numerous consumers and visitors to the well-known Hydrotherapy Centre have testified to the benefits of the brand over the years. I recommend giving this brand a try if you're having trouble finding skin care products that are good for your sensitive skin. Include the Avene moisturizer and oil cleanser in your daily routine, and watch your skin become more radiant and healthier with each passing day.