Yeah, winter is coming so you have to get a winter wardrobe ready anyway. As you build it piece by piece, keep in mind your personal preferences and styles too. Also, using one dress in at least three wearable styles is the new trend. Go for pieces that you can mix and match with your other pieces too.
Even if you are not a local, the online stores are here to help you get whatever you need to make your wardrobe ready for the upcoming winter. I have an Egyptian friend who likes to wear ethnic clothes even in winter. So while searching for her birthday gift, I came upon online dresses with lots of interesting ideas. Among many great looks, I realized that you can also have an ethnic look by mixing up western contemporary clothing items.
So, here is a list of clothing items that you have to have in your wardrobe to have different yet fashionable looks…
Knee-High Boots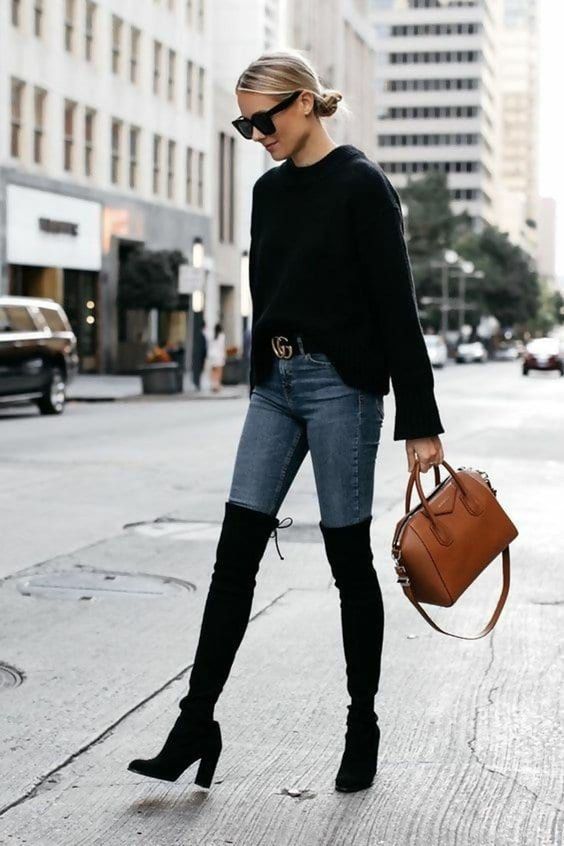 You can never go out of style with knee-high boots. They were a riot this autumn, and still trending for the winters. They can be worn and styled with so many clothing styles, so it won't hurt if you own more than two pairs either.
Material-wise, suede is out this season, and I'm glad because wearing suede shoes on a rainy day means extra cleaning work (and who wants that?!). Leather is going to be this winter's preferred material. It is also weather-proof, so good for us!
When choosing the right color, go for neutrals. Colors that you can mix and match with every winter outfit. Grey, beige, black, you can choose whatever matches the most with the items in your wardrobe.
Skinny Jeans
Skinny jeans are an essential this winter to include in your wardrobe. They'd look great with your knee-high boots too. And if you have a thick build and need the balance, wear them with heavy-bottomed knee-high boots. Pair all that with a loose top or blouse in lighter hues.
Also, look for legging style or super skinny jeans. They fit perfectly inside your boots and give you a super slim look. You can pair your skinny jeans with almost any other piece of clothing, a sweater, a scarf, a top, anything, so you have to include these in your wardrobe this year!
Woolen Coats
You'd be amazed by how a simple wool coat can transform your look into a classy one in a minute. You can never wear it wrong, formal or informal. If you too are a last-minute stylist and randomly pick up items from your wardrobe based on colors, a wool coat would be the safest choice. You can go for shopping or to an important meeting in it, just pair it with your skinnies and some casual sweater and you are done!
Camel, grey, or brown are the safest hues to go for when choosing one. But if are getting more than one, you can go for your favorite mink or red too, as you naturally gravitate more towards your favorite colors while styling. And you look good in them too!
Puffer Coats
Well, a puffer coat would do what a wool coat wouldn't be able to do. Or vice versa. I think you got to have both of these in your wardrobe this year. You can go for a rain-proof puffer coat to help you on rainy days when you cannot risk spoiling your woolen one. You can also choose a long or a short one, depending on your style preference and body type. If you are bulkier, you should go for longer ones to give you a lean look. But make sure to choose one in dark color, because the texture of puffer coats already make a loud statement.
Cashmere Sweaters
You cannot survive winters without having a cashmere sweater (or several) in your wardrobe. Even if you are a working woman or a college student, you can choose a cashmere sweater anytime. Good thing is that they are not heavy on the pocket either. You can get several in the colors you wear the most. You can carry them off with sneakers or heels, with a pair of jeans. Just be picky while choosing the right neckline.
Tights
To be honest, I never even thought about having this disturbingly uncomfortable piece of clothing in my winter wardrobe ever. But now, although I'd hate to admit it, these are an essential this winter. They can go with cashmere sweaters, scarfs, loose tops, sweater dresses, and even with puffer coats. Just pair them with your favorite loose top or sweater dress, and you are ready to go. Just don't forget to wear an underslip to avoid visible lumps and bumps underneath.
Was this helpful? If it is already too cold to go out, you can search for the best online shopping sites for women's clothing and pick up items one by one. You may find good deals that are not available in the stores, and can also take all the time you want choosing stuff! Happy shopping!