When choosing the appearance of a home, we are very particular about every minor detail. From the room setting to the paints of the wall and selecting among multiple ceiling texture types, we want everything to be perfect. Choosing the right option for each room is critical but important.
Ceiling textures takes into account the pattern or the design on the vault and make it look exceptional. There are many types of ceiling textures in this article. If you want to choose the right design or ceiling pattern for your room, you need to analyze the type of your room and select accordingly.
Ceiling Texture Types
For those who are renovating the house or shifting to a new one and want to texture their ceiling, we are here to help. Are you looking for the best ceiling texture for your room and not sure which one to choose, read this article thoroughly.
At the end of the article, you will definitely find an answer to your question. Moreover along with the ceiling, from the below options you can also choose a suitable design for your wall.
1. Sheetrock Ceiling Texture
This type of ceiling texture feels rough when touched with hands. Rather than smooth, it has a rough surface. The texture gives an artistic look that the experts achieve just by the skill of their hands rather than the brush. Let's look at the pros and cons of this type:
| | |
| --- | --- |
| Pros | Cons |
| Gives a modern look to room | Time consuming as done by hands |
| Never gets outdated | May have slightly defected surface |
| Appealing for rooms with variety of lights | Always require a professional |
| Has amazing hand-tooled finishes | Costly to install |
2. Popcorn Ceiling Texture
This is one of the most common types of ceiling finishes. As the name implies it has a poppy surface that looks more like cottage cheese. Popcorn ceiling is perfect for the areas which should look bright like hallways.
| | |
| --- | --- |
| Pros | Cons |
| Perfect way to hide the imperfections | Cannot be used in all rooms |
| This texture costs relatively less than others | It is hard to clean |
| Deadens noise | Very difficult to repair |
| Easy to create | Difficult to maintain |
3. Crows Foot Ceiling Texture
If you want to experiment with your roof, this option is for you. Crows foot or sometimes called stomped pattern helps to make your ceiling perfect as it covers all the small cracks. Being creative, this texture is difficult to get. Therefore, if you are doing it yourself with a stipple brush, be careful.
Try it somewhere else first to get an idea of how to use it. However, it always requires two people as the pattern made needs to be dusted with mud simultaneously. Cover the floors for avoiding more mess in the room.
| | |
| --- | --- |
| Pros | Cons |
| Hide the small cracks | It is a messy project due to usage of mud |
| Unique Pattern | Requires more manpower |
| Saves Painting | Need to be expert to do it yourself |
| Gives a contemporary look | It is more complicated |
4. Spray Sand Ceiling Texture
As the name implies, the sand is mixed with the water or primer and then sprayed on the wall or the ceiling. This process is done with a help of a hopper gun. More people like this texture on ceilings than the room walls. You can also add a little paint to this texture.
| | |
| --- | --- |
| Pros | Cons |
| The method is relatively easier | If not sprayed correctly, can ruin the whole texture |
| Inexpensive way to make the ceiling stylish | Can miss the corners |
| Paint can enhance the beauty | Need a special gun |
| Takes lesser time | Requires a specialist to do it neatly |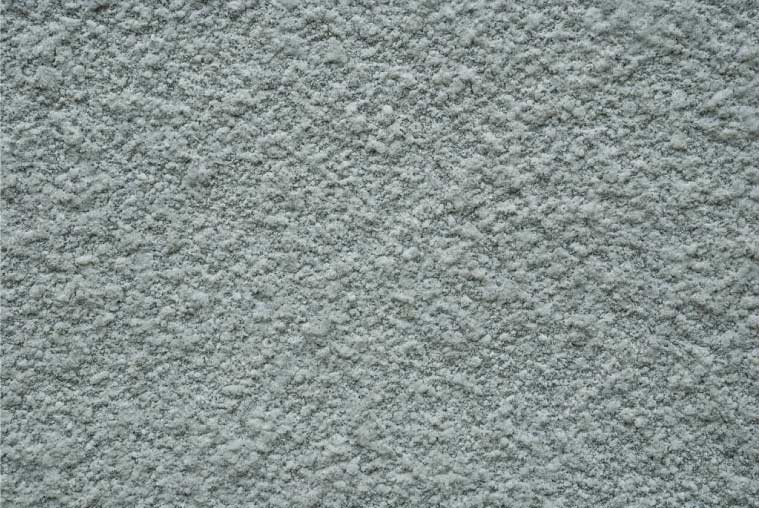 5. Drywall Ceiling Texture
Drywall ceiling texture is general and open term. This means that you can apply any texture over it. Among the most popular ceiling texture patterns, mostly falls into the drywall category i.e., popcorn, orange peel, knockdown, swirl, and slap brush.
| | |
| --- | --- |
| Pros | Cons |
| Freedom to put any texture | Difficult to remove |
| Choice to add different color combinations | May give outdated look |
| Act as camouflage | Wiping dust is difficult |
6. Orange Peel Drywall Texture
Another ceiling texture style that has a wrinkly surface is orange peel. The texture looks as interesting as the name is. Just like the surface of an orange, it is bumpy and freshening for any room. This style should be used in an area that doesn't require frequent cleaning. This texturizer is available in spray which makes it easier to apply.
Pros
Cons
Control the sound level of a room
Tiny spaces between the pattern are impossible to clean
Gives a soft and light touch to the room
Too common
It has appealing look
Can do it yourself with the help of right tools
7. Comb Drywall texture
With the help of a toothed trowel, a pattern of grooves is created on the ceiling. To make your hideous ceiling more appealing, the series of these patterns can be used. It is one of the most simplistic ceiling texture styles which use lines of various widths to create the desired pattern on the wall or ceiling.
Pros
Cons
Gives a formal look
Need to be very careful when making the patterns
Can be done with hands
The design can lose the symmetry.
Can create rainbow or fan pattern
Don't miss: Modern Baroque Designs
8. Skip Trowel Ceiling Texture
The amazing thing about this design is its randomness that differentiates it from other ceiling texture types. Just a random pattern looks beautiful. All you have to do is apply the joint compound on the ceiling or wall and move the trowel in the direction you like. But remember a good skip trowel has some plain smooth areas.
Pros
Cons
The patterns are very easy to make
When plaster dries, you can't make the patterns.
You can make it lighter or aggressive
People consider it unsophisticated technique
Even mistakes won't harm the design
9. Lace Ceiling Texture
If you want your ceiling to grab people's attention, this design is for you. It is one of the most beautiful ceiling texture patterns. Getting the final result is not easy; you need a lot of tools and skills to create this masterpiece. It creates a perfect blend of two colors one layer on another.
| | |
| --- | --- |
| Pros | Cons |
| Most attractive ceiling with artistic look | Takes a lot of time and efforts |
| Many patterns of this texture are available | Only a specialist can do it |
| Two colors make it unique | Need to be careful in selection of colors |
10. Swirl Ceiling Texture
Many people who are fan of circular patterns; this texture is especially for them. It can be seen in most of the houses. It has a similar method to skip trowel but the patterns made are not random but circular. The tool you use will determine the accuracy and the size of the circular pattern.
Pros
Cons
Easy to make on ceiling
Can be hypnotizing
Requires less tool
Accuracy depend upon hand movement of craftsman
Customize it according to choice
11. Hawk And Trowel Ceiling Texture
You want to make texture on your plain ceiling, just grab a hawk and a trowel. It consists of layers of drywall mud flowing over one another which makes it look like waves of water. Various variation of this style exists, each depending on the thickness of the material used.
Pros
Cons
Makes boring wall interesting
Thick material might wear off
Does not require expertise to create
Not as appealing as other textures
Special technique can make it exceptional
12. Slap Brush Ceiling Texture
This type of ceiling finishes can be quite messy if not done right. It gives fascinating look to the roof with the help of a slap brush which has stiff bristles and a long handle. After applying the thin layer of compound and mud on the ceiling, slap the brush onto it at an angle creating random patterns.
| | |
| --- | --- |
| Pros | Cons |
| Very popular | Very risky, can go wrong |
| Having long handle, make it convenient to control | Difficult to do on the ceiling |
| Light touches create fine texture | |
13. Rosebud Ceiling Texture
To decorate a small living room ceiling, a pattern of flower is a perfect idea. The beauty is amplified by the beautiful rose design that blends well with a room of smooth walls. You can also get a pattern of any other flower according to your choice.
| | |
| --- | --- |
| Pros | Cons |
| Pattern of petals beautifies a room | Thick mud can ruin the design |
| Easy to apply | Inconsistent mud creates sharp edges |
| Choice of selecting any flower's design | |
14. Tree Bark Ceiling Texture
Among many ceiling texture styles, this design requires a roller instead of a brush. It resembles the look of a tree's bark with a rough surface. The roller or paintbrush creates a uniform pattern on the thin mud-layered surface giving it a chic look.
Pros
Cons
Roller makes it easy to apply
Thin mud layer isn't as effective
Hide blemishes from old ceiling
Thin layer can create imperfections
End result is subtle
15. Knockdown Ceiling Texture
Unlike other ceiling texture types, it takes a little work to install this texture. So you need to wait until the ceiling compound settles and then level it with a special tool. The second stage includes "knocking down" with a sponge or a brush. After installing it, correct the edges or paint them with the color you like.
| | |
| --- | --- |
| Pros | Cons |
| Popular appearance | Difficult to install |
| Cover the imperfections well | Hard to repair |
| Adds warm and depth to a room | Requires patience |
16. Fish Scale Ceiling Texture
Fish scale, fan, or shell pattern looks amazing on the ceiling of any room. The pattern of half circles or circular arches is attractive and not commonly installed texture in the houses. This means your home will have a unique touch.
| | |
| --- | --- |
| Pros | Cons |
| Eye-catching and unique | Tough to apply |
| Blends seamlessly with any wall | Requires a professional to install |
| A little paint make the design prominent and more beautiful | |
17. Santa Fe Ceiling Texture
This drywall texture resembles a lot to skip trowel but it has more coverage area. An easy rule of thumb is Santa Fe covers sixty percent of the ceiling while skip trowel has lesser area textured. The applying method is similar; random movements at a specific angle across the roof.
Pros
Cons
Uneven texture looks beautiful
Many confuse it with skip trowel
Easy to make random patterns
Not among the favorite choice
More smooth areas
18. Mud And Tape Ceiling Texture
Probably the most common of all ceiling texture types. With the help of this, you can remove the dullness of a flat ceiling and make it look interesting. Tape covers the joints, repaired areas, and corners of the ceiling or wall. Then mud is splashed over the ceiling.
| | |
| --- | --- |
| Pros | Cons |
| Costly than other textures | Mud can make everything messy |
| Makes broken roof just like new | Can't make it yourself, if you are dust allergic |
| Requires simple tools | |
19. Stomp Ceiling Texture
If you really want to hide all the imperfections and stains from your roof, this texture is for you. The only thing to remember is to thin the compound with water till it reaches the consistency of paint. Then with the help of a stomp brush create the patterns.
Pros
Cons
No need to repair a roof, can hide all broken areas
Without right consistency can't get the desired finish
Pattern is easy to pull-off
Can ruin the furniture
No fancy tools
20. Light Popcorn Texture
For those who prefer a versatile ceiling with changeable colors, light popcorn is the best option. On a less poppy ceiling, you can paint different light colors whenever you want. This is a good option for those who are not a fan of aggressive patterns and want to keep it simple.
| | |
| --- | --- |
| Pros | Cons |
| Doesn't have eye striking look | Too simplistic |
| Has elegant appearance | Without paint, texture is not prominent |
| Light color blends with white walls | |
21. Smooth Ceiling Texture
An uninterrupted, even, and smooth ceiling is probably the most famous among the types of ceiling finishes. The advantage of this ceiling is you get a perfect look for any room with a minimalistic and simple finish. It has multiple layers of mud and paint without any design or pattern.
Pros
Cons
Easy to install and remove
Imperfections are noticeable
Maintenance is easy
Not good option for fans of patterns on wall
Cheaper than rest of the textures
No requirement of professional to install
22. Skim Coat Ceiling Texture
If you have removed a heavily textured ceiling then you should try skim coat which is a type of smooth texture. It is not completely smooth but has some textures in between making it simple yet beautiful. With a thin layer of mud, you can hide the imperfections. Among many ceiling texture types, the smooth ceiling is still people's favorite.
| | |
| --- | --- |
| Pros | Cons |
| Perfect for those who are not fan of textured ceilings | Cracks can appear when the plaster dries |
| Easy and fast to install | Requires multiple layers of mud |
| Makes the roof smooth | |
23. Shoelace Ceiling Texture
Like the shoelace, this texture is also quite complicated but the end result is worth all the efforts. Those who prefer heavily textured roofs would love this pattern. Anybody passing by your room won't be able to take the eyes off this beautiful mesmerizing design.
Pros
Cons
Most attractive ceiling texture
Requires a lot of fancy tools
Fills the roof with a beautiful pattern
Minor detail needs to be finished neatly
Plain walls and heavily textured ceiling are perfect combo for modern houses
24. Scalloped Ceiling Texture
This is a painted illusionary texture that is perfect for any bedroom. The melting effect of paint is depicted in this design. This ceiling with light shaded walls makes scallop design nice and comfortable for your room.
Pros
Cons
No rough surface
No sound control
Creates a perfect room environment
Paint fallen on furniture can ruin it permanently
You can paint it yourself
25. Stamped Ceiling Texture
Another type of drywall is a stamped texture in which rollers are used to create a uniform design. The process is similar to the swirl ceiling but instead the circular shapes, random patterns are made. You can use anything available at your home to create the patterns i.e. brick, sponge, or broom bristle.
| | |
| --- | --- |
| Pros | Cons |
| Gives simple yet modern look | Edges need to be sorted |
| Can use any available tool | Anything stamped appears in backward direction |
Choosing Among Multiple Ceiling Texture Types
The selection of suitable ceiling texture patterns is thoughtful and competent, which must take into account both the color scheme and the decoration of the room.
The right way to choose a texture pattern of a room is to analyze for which room it is for; a bedroom's ceiling texture should be different from the kitchen or study room.
For getting rusty appearance of a room, you should choose rough textures rather than a smooth one.
Avoid choosing heavily textured designs for a small room.
For keeping the house simple and elegant that goes with any theme, the most popular choice is a smooth textured ceiling.
The ceiling should always be lighter in color than the flooring.
Final Words
From the above ceiling texture types, you can choose any for your room decoration. You can read the tips for selecting the perfect option that blends well with the theme of your house.