You might have read unique to-do things for independence day, but only a few people talk about the Dont's. We appreciate the patriotism of Pakistani people, and we know they do lots of things for a 14 August celebration, but we need to pay attention to those things as well that we should avoid on this occasion. We use to saw numerous gatherings, dinners, lighting, apparel brand sales for raising the patriotism of people, and much more things in the accordance to this occasion.  Many of you take a pledge to sacrifice their lives for the country and for the betterment of Pakistan which is a good thing, and we should encourage such people. This is a good act I believe, but we shouldn't be active for the single day. Everyone must keep on doing different things after this as well. There are so many things on which we don't talk, and that must avoid this at any cost. Check it out what are those specific prohibited acts, and we should educate our society to prevent these useless things.
Don't use Western Dress Codes
Well, this is good to follow a right dress code for every people on 14 August day, but people are the bit over with their fashion sense. You might have seen girls especially wearing off shoulder shirts with the Pakistani flag printed in the middle and also wearing torn white jeans and using other western dressing codes for this day. Let me emphasize one thing here Pakistani culture is beyond the dressing of the west. We should use the exact Pakistani dress code for every event which is a shalwar kameez. Every Pakistani male or female must remember the Pakistani values for which our elders fought for several years. Avoid using western codes, make sure boys are wearing shalwar kameez and girls can do a combination of frocks, shalwar kameez, kurtas and such other outfits that shouldn't hurt our true sentiments.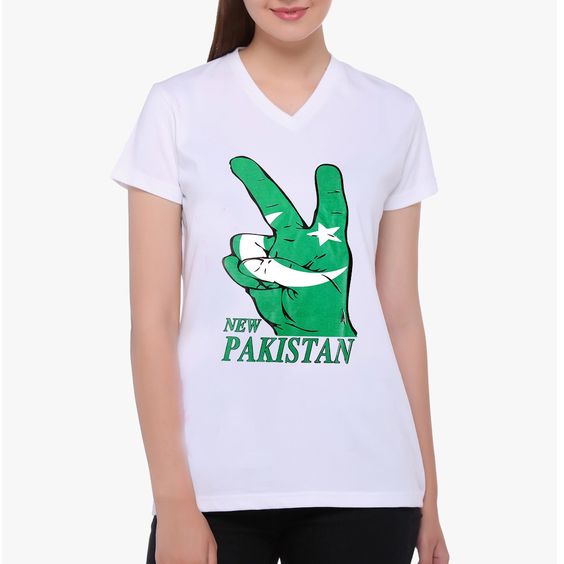 Don't Decorate Home with Paper Flags
When you were a kid, you might have seen people decorating their homes with paper flags, and this ritual is so common until today. With a light breeze, you see these flags falling on the ground which is genuinely a bad thing. It is against the actual norms of a civilized nation. If we can't give respect to the flag then how can we say we would take care of minorities or majorities and make it a prosperous country. Without this, we can't prove ourselves as a civilized nation. If you want to show your patriotism to other people, then one thing you can do is to hoist a flag on the roof.
Don't Waste Money Over Luxurious Parties
We value your spirit, but unfortunately, people lose lots of money over the expensive decorations and extravagant independence parties that don't leave a great impression on the whole nation. It's highly recommended to do a charity on 14 August rather than wasting money over the extravagances. There are lots of people in our country who have no shelter, and they are looking for their basic needs. Being a member of the civilized nation, we must think of such individuals and encourage our friends to do the same as well.
Don't Limit Your Patriotism to a Single Selfie
Well, the internet is flooded with such selfies and pictures that are taken by random people. Do you know what they do early morning? They may wake up around mid of the day, and after wearing a particular dress, they take a selfie to show their so-called patriotism to the world. This is not a right thing that we are teaching to our youngsters, and you might haven't seen your elders doing this. We are living in digital media, and with the advancement of technology, everyone has limited their love for the country to just a selfie or any public appearance. Wherever they go, they must show off over the social media on how they are celebrating the day with family and friends, but this is not an actual purpose of celebrations.
Don't Throw Garbage like Your Routine Day
14 August is the public holiday, and like other routines, we throw garbage in the street without noticing the importance of the day. We must keep our home and surroundings clean especially on this day. Do it yourself rather than waiting for a sweeper. Put trash in a dustbin, and we shouldn't practice this thing for a day but do it for rest of the 364 days as well.
Don't miss the Sunrise of 14 August
Many of you have already planned to sleep a whole day on this public holiday, and if you got two consecutive holidays near a weekend, then you are the luckiest Pakistani who have consecutive holidays. It is not appreciatable for everyone to arise in the mid of the day and then start planning for the remaining day. I believe this is a day when we shouldn't miss the sunrise. This one is the best patriotic feeling when we offer Fajar prayer and thank Allah through Shukranay K Nawafil for the independent piece of land on which we are living proudly. Get up early on this day and instruct your kids for doing the same.
These are some donts that we believe should be known to everyone. If you people won't pay attention to this then what would you teach your kids? We should make an example in front of the kids who are the future of Pakistan. They must know about the importance and the sacrifices that gave by our elders for an independent land. Have a prosperous and joyous 14 august day 🙂