Many women love tattoos on their arms, and half sleeve tattoos are their new favorite. There is no denying that half-sleeve tattoos look beautiful and artistic, but they can also have powerful symbolism. You can find many designs when you plan to get your arm inked, but we prepared a list of cool half-sleeve tattoo ideas to make the decision easier.
The great thing about these designs is that you can add a few elements to your body art, making it meaningful and personal. Let your tattoo tell a unique story and give you a chic look. So if you are looking for inspiration for your next tattoo, consider these cool half sleeve tattoo ideas.
Attractive Half Sleeve Tattoos For Women
Here are some cool girly half-sleeve tattoos that are also trending in the market today.
1. Floral Half Sleeve Tattoos For Girls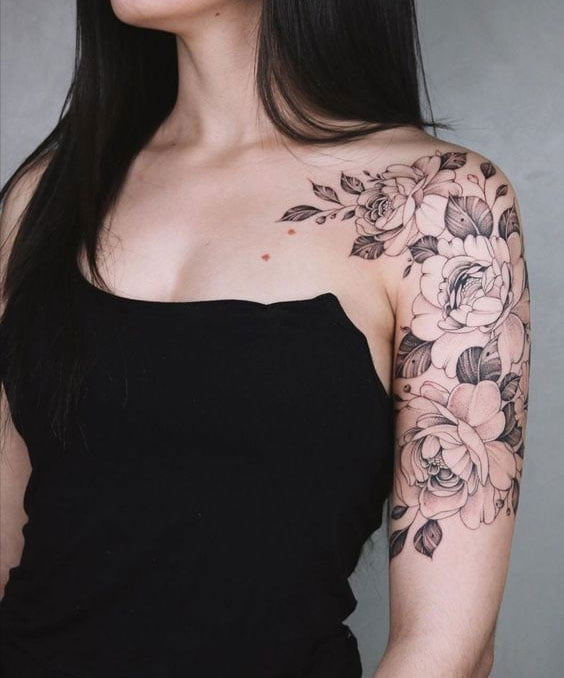 Half-sleeve tattoos make a statement, as they cover a large area of ​​the skin and look artistic. Flowers are one of the most popular tattoo options because there are so many different types of flowers, and they all have diverse symbolism.
In general, flowers can symbolize love, but depending on what you choose, your body art can be created just for you, with a personal meaning. For example, a red rose stands for passion, and a black rose stands for death or sorrow. Cherry blossoms are associated with life and beauty. So if you are a fan of flowers, this is one of the best half sleeve tattoo ideas for you.
Don't miss: SkinMarks Smart Tattoos Turns Your Body Into A Touchpad
2. Ethnic Half Sleeve Tattoos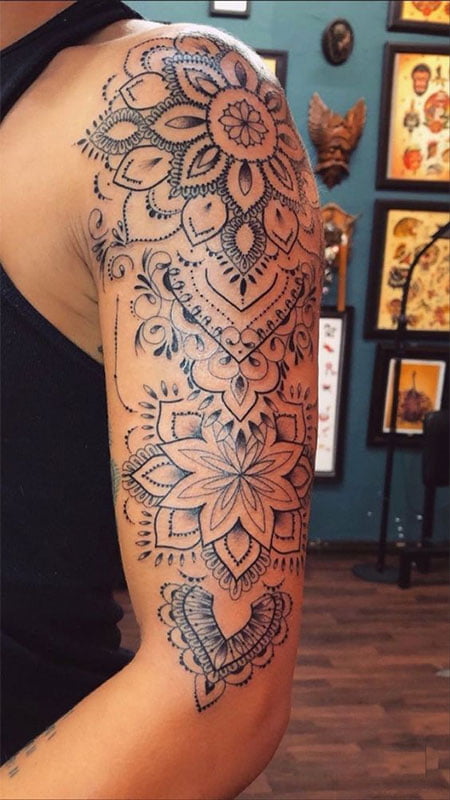 Tribal or ethnic tattoos are symbolic, especially if you study them beforehand and know what they represent. Many cultures have used tattoos to express their pride and tradition, and their ink tells a story.
So before you run into a tattoo studio and choose any random design without thinking about where it comes from, get some knowledge about them. This is a perfect option for strong women looking for cool half sleeve tattoo ideas.
3. Skull Half Sleeve Tattoo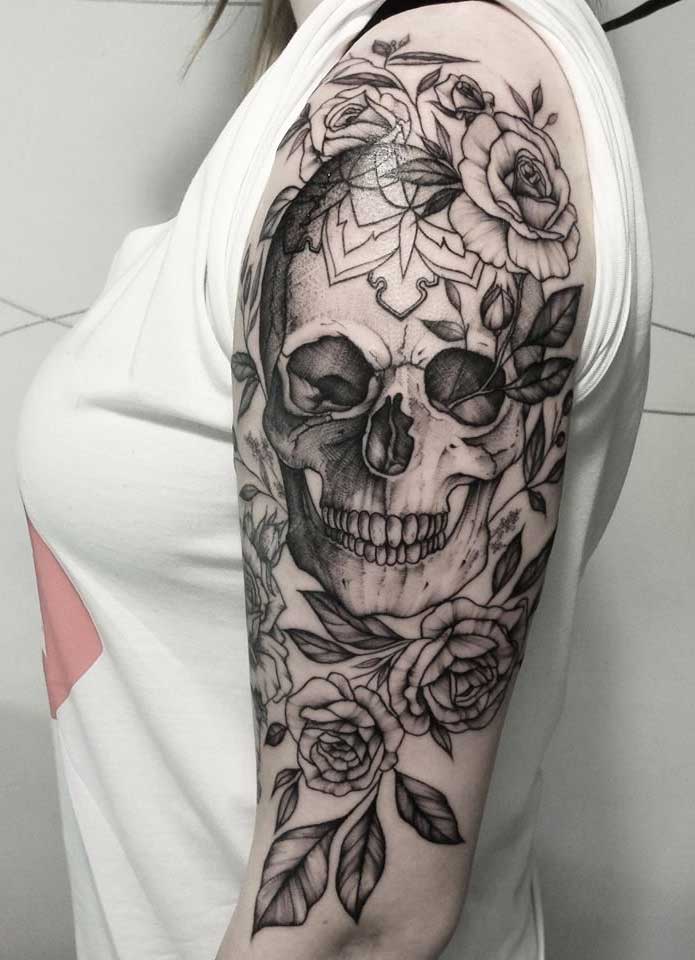 Many people might be surprised to see skull tattoo ideas in this list of half sleeve tattoo ideas for females. But it is one of the most rugged designs and quite popular among today's women. These are universally recognized as symbols of death and mortality.
They can also be associated with power, strength, and the ability to overcome the unrest and challenges of your life. Whatever design you choose from this list of upper arm sleeve tattoo females, these will surely attract people's attention.
4. Colored Girly Half Sleeve Tattoos
When choosing a tattoo, you need to consider the placement and the design and if you want classic black ink as a color. There is no denying that bold and vivid tattoos are appealing. They are pretty popular when it comes to female half-sleeve tattoo ideas. When choosing black ink, there is no doubt that the image will stand out against your skin.
However, you can even be more fun with your tattoo. You can choose different colors to make your tattoo look more appealing and bright. Such designs are usually more expensive, but it is undoubtedly the best if you are looking for girly sleeve tattoo ideas!
5. Japanese Style Female Half Sleeve Tattoo
Japanese tattoos have a distinctive style, usually explained by bright colors and bold designs. Many of the symbols used in Japanese tattoos are very popular. Thus, they have become a popular choice for both men and women. If you want a cool half sleeve tattoo that turns your head, you should try this design. Images often include fish, dragons, cherry blossoms, lotuses, and phoenixes.
6. Tiger Design Half Sleeve Tattoo
The tiger is a powerful predator and stands at the top of the food chain. For this reason, the big cat is often associated with freedom and independence. It is also associated with strength and confidence and is essential in different cultures. In China, the powerful animal stands for honor; in India, it is the national animal.
A tiger tattoo is an excellent choice because of its symbolism and beauty. So when going into body art, it is not difficult to understand why a woman chose such a meaningful and exciting design. It also works well as a complete sleeve design. You can experiment with the placement of this female half sleeve tattoo idea.
7. Dragon Design Half Sleeve Tattoo Ideas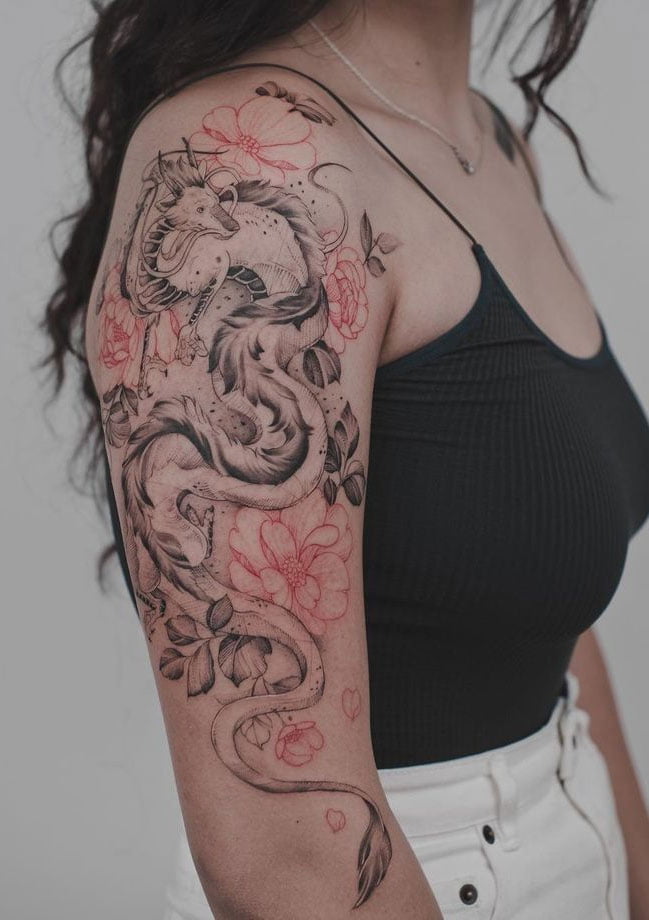 If you want a half-sleeve tattoo that is intriguing and cool to look at, look no further than a dragon tattoo design. The mythical creature is associated with power, wisdom, and fortune. A woman who cares about these features should get this popular design in her arms.
The beauty of this design is that you can choose from multiple options and even add colors. So if you wish, you can choose bright colors, but classic black ink will also work. This design has always been trending, so it never misses the excellent half-sleeve tattoo ideas list.
8. Musical Half Sleeve Tattoos For Girls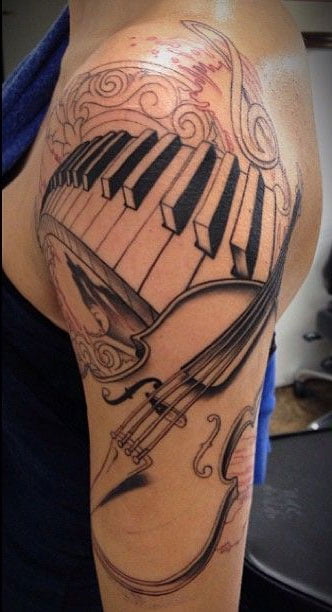 Musicians and instrumental fans can express their passion by getting a musical tattoo. Half sleeve ink is attractive because many different images can be incorporated into your design, including musical notes, lyrics for your favorite songs, or even flowers. The overall effect is stunning. It looks beautiful even from a distance.
9. Cloud Half Sleeve Tattoo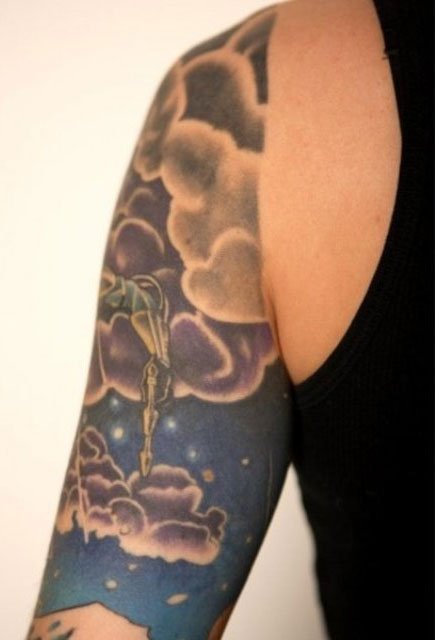 There's something surprisingly dreamy about getting cloud tattoos, but they do not look cool; they are also rich in symbolic value. For some people, this may mean personal growth and a positive role.
The images can remind you how to fly freely in space and overcome negativity or mental limitations. Many women feel the same way, making it one of the females' most popular half-sleeve tattoo ideas.
10. Patriotic Half Sleeve Tattoo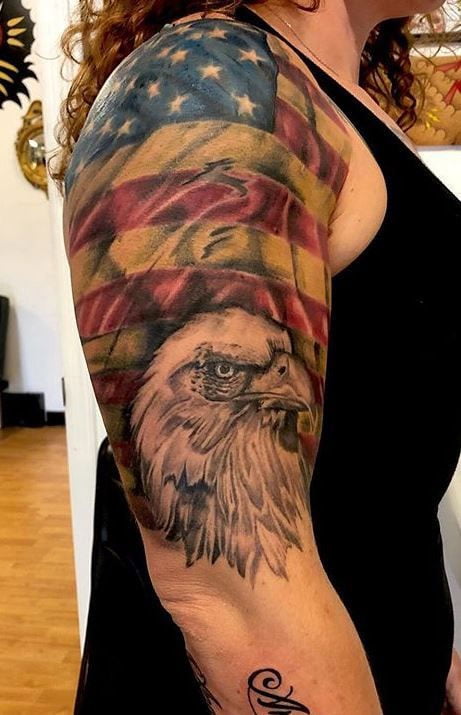 If you love your country and want to show it to the world, getting a patriotic tattoo is good. These include the decision to get a flag tattoo. If you are American, you can honor your country by getting a red-white-blue flag. You can even get an eagle along with the flag. It will look excellent and show that you have a free spirit.
These are some fantastic half-sleeve tattoo ideas for women who want tattoos that look good and have some meaning.
If you are a tattoo lover or tattoo artist who love collecting all kinds of tattoo pattern, try CustomSticker to turn those good designs into stickers in any shape and color you like.
You could use them to fill your scrapbook, portfolio, or decorate your tattoo studio, room, or anywhere. Also, as a tattoo artist, you can send them to your customers, which can help promote your brand and maintain good relationships with customers.
Frequently Asked Questions
How much would a half sleeve tattoo cost?
A half-sleeve tattoo is cost $500 to $1,500 on average.
How long do half sleeve tattoos take to heal?
Typically it heals within 2 to 3 weeks and sometimes longer.
Should I tattoo my left or right arm?
Any arm would be good for a half-sleeve tattoo; the rest is your personal preference.