Who else doesn't like to wear jewelry? Some women are so crazy about this, and they are keeping an eye on the latest designs as well as upcoming trends. Yes, fashionistas find their selves incomplete without this. Have you ever held an eye on the latest jewelry trends? 2022 is approaching us, and we are about to see something new in jewelry noticeable.
This spring, you are going to observe hot jewelry trends that are going to mesmerize the overall appearance. Jewelry designers need to be responsible while designing perfect jewelry for her. They need to incorporate different elements to bring coordination with the outfit as well. We aren't talking about the European market either, but the Asian market has been creating hype for jewelry for centuries. Here we are going to discuss some hot trends for jewelry 2022 and going to tell our readers what is being expected further for an appealing look. Take a look
Nature appeal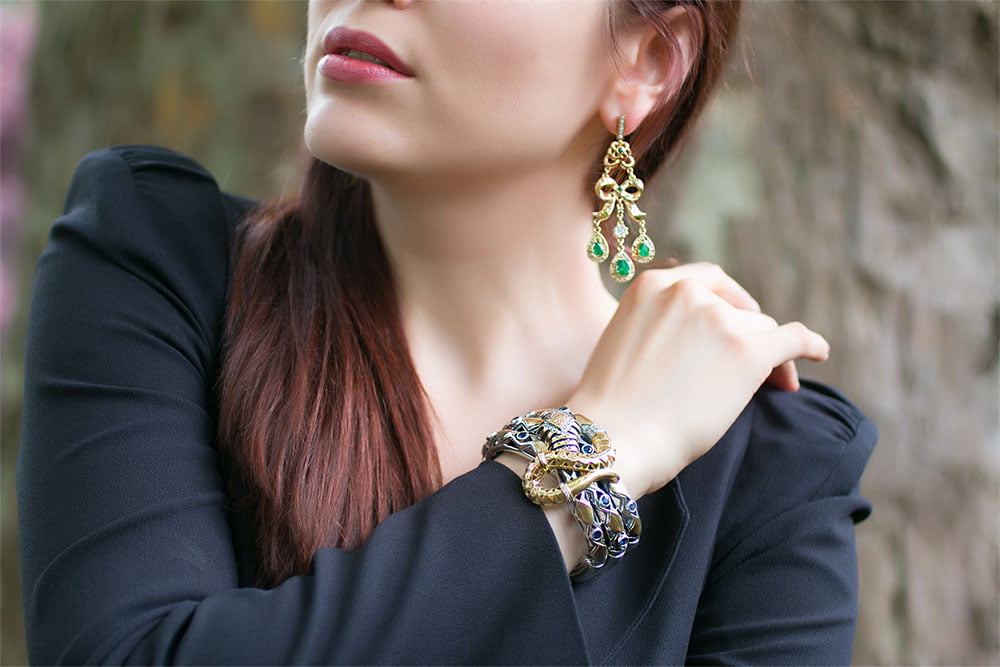 Whether it comes to interior design or jewelry, colors are very important because the only color can bring out the most apparent and when it will make natural appeal this is going to be the craziest thing for every jewelry lover. Keep it minimum to nature and nature-related elements can be seen widely in the jewelry. You will see wooden brooches and seashells in huge for 2022 trends.
Spherical Touch
It has been seen on various runways that spheres are going to be the most inspiring thing of 2022 and every jewelry ornament will be seen having a crystal ball. Whether you see long drop earrings or necklaces every article either be wrapped with gold, recycled silver or even in diamond will have a spherical touch.
Long patterns
Yes, long patterns are going to be in trend this year as well, and you will see long pattern lockets with studs or spherical balls. It may provide you with the look that you want. A few ages ago there was a trend of long patterned chains, but a sudden choker has overlapped the long ones, so we believe this one is going to be huge. Jewelry designers have already worked on numerous samples for runways.
One and only one
Yes, this one has opted with all grace but moving back to find a good one chooses a hoop, geometric shape or even stud. All efforts are going for not both sides only but one side. The latest versions have been tried for her makeover. Designs are available for geometric, dangling and hoop.
Statement Chokers
Well, here we are not going to discuss chokers that were in the trend years ago in multiple layers even, but in 2022 you will see many flaunting statement chokers with durable shape and flexibility. It's up to you whether you opt bold or lightweight, but whatever you choose must compliment your dress because chokers are all about precise coordination that no one wants to miss at any cost.
Oversized colorful chains
Runways are roaring with oversized colorful chains where it is crafted with multiple colors and heavy chains to give you spark this season. It has been seen on various runways where colorful crafty chains were in the eyes of everyone, and soon in 2022, it is being seen in the mainstream. Go for oversized colorful chains that have created too much vibe for the fashion industry.
Why is jewelry coordination with an outfit so challenging?
It has been seen people have a lack of knowledge and they can't do proper jewelry coordination with outfit easily and make it challenging for themselves. It is instructed by various designers to opt only that jewelry that goes well with the outfit as well as your facial structure. Always go for statement earrings to highlight the face and should complement the skin tone. White or black pearls are everyone's favorite and to compliment those shades get the right outfit that should bring out your personality with the proper selection of jewelry.
Take this jewelry inspo are in the mainstream these days, and everyone is taking an interest in what's new in 2022? We hope that your people have selected your most favorite trend right now to look good. Let me add one thing here you can't bring out the appearance of your outfit without jewelry. Lots of fashionistas head toward designers to know the best design for upcoming years, but here today we have revealed the secret.