Table clothes are more than material pieces you spread on the table for decorative purposes. They could help prevent the table from damage and give it a sense of organization than keeping it bare. Mainly used for dining tables, having white clothing on top of the wooden or metal table could add more semblance to an evening dinner.
And they are not only ideal for restaurants or public spaces; they could also work magic in the home when it comes to family mealtime—planning to shop for tablecloths? Below is a quick guide on what to look for and how to make the best choice.
Why do You Need Table Cloth?
You may wonder why to invest in them in the first place. Of course, your furniture could do without them, but there is a reason why they are made in the first instance. And they are not only needed to lie on top of your dining or center table. They could prove more helpful if you know just how to use them. You can find some of the reasons why you want to consider tablecloths below.
Add Character to your Dining Area
For one thing, you will be doing a good deal of design to your tables with the proper cloth. You can find them available in different material types and techniques that will help uplift your dining experience. While it doesn't have anything to do with the quality of the meal, it can help improve the quality of the dining experience.
This can go a long way in making mealtimes more unique, especially if you arrange all your utensils and spices on top, making it easy to access everything you need for a sumptuous meal.
Preserve the Wood or Metal Furnishing
A cloth on top of your dinner table will surely help with preserving the life of your furniture. In addition to preventing oil spills directly on the table, it can help hide scratches on your furniture. And what's more, avoid further damage to the piece.
You will need to clean your tables regularly to keep them looking good. And you want to make sure to use suitable cleaning materials that are not abrasive to prevent damage to it. You can find more here for ways to maintain your wood furniture.
Keep Dinner Guest Comfortable
They could help provide warmth to guests as they enjoy lunch or dinner on the table. And if you happen to run an eatery where you get regular customers, they can help give the guest the semblance of fine dining. You can also provide them with a means to dry their hands rather than doing so on your chairs or walls, which could mean frequent painting and maintenance of your wall and furniture pieces.
Don't miss: 4 Simple Ways to Have a More Eco-Friendly Dinner
Improve the Feel of the Room
You could increase the outlook of your room with the use of tablecloths. You can choose to match the color with your walls or other decorative materials in the room. And for the dinner table, you will likely be able to check the chairs or floor if you choose to get creative with your decoration.
Since they are available in different color tones, it won't be a challenge making it work. You only need to ensure that you combine them properly, so you don't get it wrong. You can always steal a peek from magazines and online decorative sources to know how to organize your space better.
How to Shop for Tablecloths?
Now that you know why they are essential, it is only suitable that you know exactly how to make the right choice when shopping for a table runner that you will love. Below are tips on how to find the best options that will work in your space.
Size/Shape
You want the cloth to be able to cover the table and drop down to the leg sections. Options that run down the edges are best to ensure that there are no spills on the wood or metal sections of the furniture. You also want to take into account the shape of the material. This may depend on the shape of the table, so you get something that will both be decorative and great for keeping out stains from the table.
Material Option
Depending on your needs, you want to be selective about choosing material for a table cloth. While the lacey linen options are ideal for high-end dining settings, you can work with other low-end options. A blend of cotton and polyester will undoubtedly get the job done without trying too hard. You want to make sure that it is durable and not damaged easily after a few use.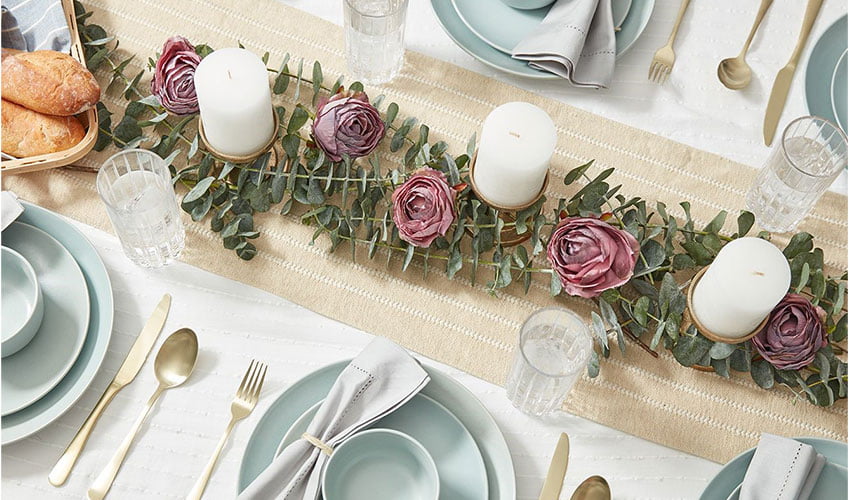 It helps if you choose options with more polyester so you can easily clean them. And they also happen to be some of the shiniest options when it comes to clothing material options.
Maintenance
Ideally, you want something that you can easily toss in the machine and wash. It also helps if they do an excellent job working with regular detergent, so you don't waste time getting them laundered. Cotton and polyester materials are some of the easiest to get tough stains like grease out of, so you want to ensure to consider this option when in the market for tablecloths.
Color
The color is another thing you want to consider. While white may be the ideal choice to go for as it is easy to match with the natural color of the furniture, others can work as well in your dining setup. If you feel white may be a big deal to maintain, you can consider colors such as ivory or chocolate to match the natural wood color of the table.
There are also patterned options that can work in your dining area. However, you want to ensure that it doesn't go off with other decorative elements in your setup.
Cost
It is also good that you do well to ensure that you are not spending much on a tablecloth. It may be good to go for expensive linen options that will be ideal for having special guests over at home. But except you are a high-end restaurant owner entertaining guests regularly, you are better off with affordable options that don't cost much. You could also choose to have luxury linens available for when you will be entertaining guests you want to give an unforgettable dinner experience.
Final Note
You could be doing a lot of good for your dinner table with clothes that help increase the dining experience and help preserve the life of your furniture. You want to invest in suitable quality materials and make sure that they help upgrade the natural look of your space.