It's very difficult to find good wedding guest dresses, especially because there's a fine line to ride between being formal and not outshining the bride. So how might you be able to find wedding guest dresses that don't overshine the main attraction but also allow you to stand out amongst the rest of the crowd? And how do you sustainably do this?
If you need a little assistance finding wedding guest dresses that work for you, you are in the right place. We're here to point you in the right direction if you're looking for wedding guest dresses, including finding cuts and colors that best suit your style.
Avoid White in Your Wedding Guest Dresses
Wedding guest dresses, almost by definition, must not be white. This is because white is generally reserved for the bride of the wedding. Choosing to wear something that might confuse the rest of the crowd is not highly recommended. There's no need to make other guests think you're the main attraction, and there's also no need to step on the bride's toes.
This doesn't mean that you've limited your dress selection by much, especially because the rest of the color spectrum is still up for grabs. Additionally, if you can find a white dress with an obvious pattern or print all over it, this might also be an option for you. There are many different choices for you, so use this tip as an aid to you in the right direction rather than a restriction.
Wear Wedding Guest Dresses That Pop on Your Skin
Depending on your look, different colors may be considered more traditionally attractive on you than others, at least in the opinion of outsiders looking in. In general, warm colors look magnificent on darker skin tones, as do especially bright colors. These are your yellows, reds, oranges, and pinks in brighter hues. If your skin is on the paler side, generally, jewel tones and cool colors tend to look best. These are going to be colors like green, blue, and purple.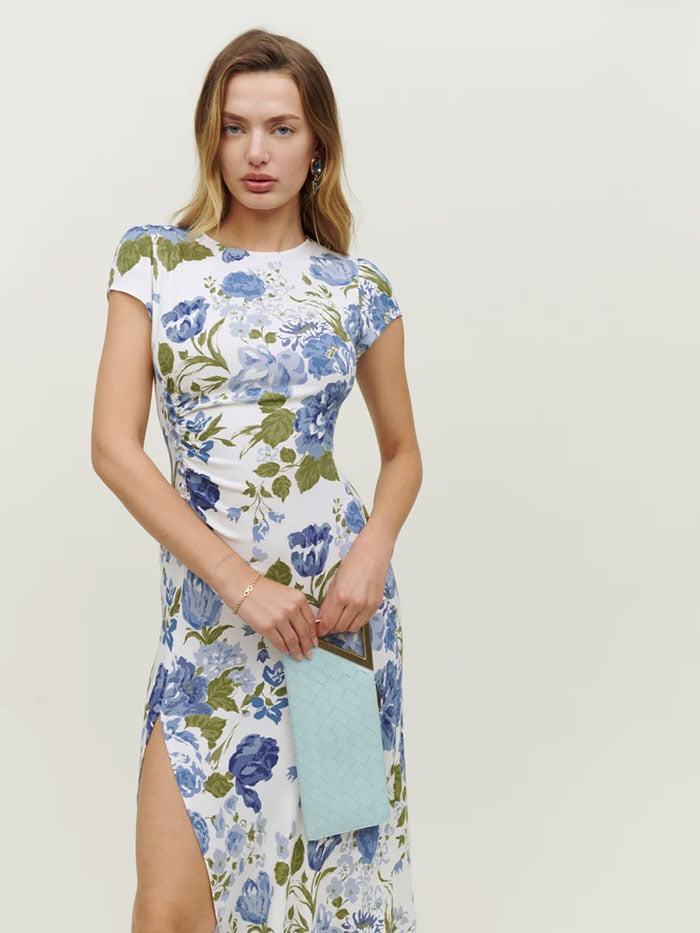 However, if you are obsessed with the way a certain color looks on you, even if it doesn't "objectively" compliment your skin tone, don't be afraid to wear it with confidence. Skin is complicated, even just a few tones apart from each other, so you can wear whatever you think looks good on you. At the end of the day, you get to decide what you truly love on your body and that plays a significant role in your level of confidence.
Show Some Skin
If you don't think about it too much, it can be easy to convince yourself there aren't many silhouette options or dress constructions for you to try. However, wedding guest dresses are allowed to be different from the typical body con gowns you might be thinking of.
Try finding dresses with different cut-outs in strategic places, and you'd be surprised. How many parts of your body you can really draw attention to and show off. If you want to distract everyone from a particular part of your body, a strategic cut-out can be a great way. It draws attention toward a body part you're really proud of and want to be seen.
If you think you've got a great back, you can find a gown with a cut-out on your upper or lower back relatively easily. If you've got a cute waistline, choosing a gown with cut-outs around your abdomen or on your sides might be perfect for you.
How to Find Sustainable Wedding Guest Dresses
If your goal is to be sustainable while you're attending a wedding, the above tips still apply. However, there are several great places you can go in order to find more eco-friendly options, including thrift stores and sustainably focused shops like Reformation. Or, if you'd instead not buy anything, you can borrow a dress from a friend or re-wear something you already have in your closet.
If you're worried about thrifting with any success. Don't be afraid to ask your friends to go to a few thrift stores with you. This is generally just as fun and exciting as heading to the mall. You're spending a mere fraction of the price. Not only do you find great clothing options for very little money. But you're also doing a lot of good for the planet.
Trying to stand up as a wedding guest can be difficult. Hopefully, now it doesn't feel as stressful as it did before. There are lots of options for you out there. You can choose to limit or broaden your choices depending on your personal preferences. The most important thing to remember is to pick an outfit that makes you feel confident and your confidence. This is how you will be able to shine brighter and grab far more attention than just a pretty gown.