It is difficult to come up with a more suitable reason to pull yourself together and change everything that has long been tired. For example, take a modest step towards global change: disassemble the wardrobe and decide on your preferences.
Simple Ways to Upgrade Your Wardrobe
Where to begin?
In independent work on the style, there are three main stages – drawing up a new style concept, global wardrobe cleaning and creating a shopping list.
Parsing a wardrobe will help get rid of unnecessary things and throw off the burden of past years, creating a concept will answer the question "What to wear?", And shopping lists will save you from accidental purchases.
We recommend starting with defining the concept of your future style – create a board on Pinterest and save on it images that you like and that you can imagine on yourself. Add only those things that fit into your lifestyle. If you have a poor idea of ​​stiletto heels, look for images with flat shoes, for example.
As a result, you should get a board with 15-20 images in one direction: they can be combined with colors, styles, the presence or absence of prints, ways of styling clothes.
Do not be sorry
Analysis of the wardrobe is an important stage in the formation of style and the creation of a functional wardrobe. You can safely get rid of things that are in your closet for 5-6 years. With a probability of 99%, they have lost their relevance. This applies to all categories of clothing.
We recommend that you stop believing in timeless classics – you must have read lists like "7 fashion hacks to make basic outfit good". It is necessary to accept the fact that the styles of things change quite strongly and the basic white shirt, bought five years ago, today hardly meets modern standards.
For example, classic boats used to be with a rounded nose, and now with a sharp one. The "ageless" trench coat today has a looser and more straight cut, and before that, it was fitted and in size. Jeans were at a low waist ten years ago, and now at medium or high. Of course, the fashion is back, but always with minor changes that change the impression of the thing pretty much.
Unnecessary things in the closet create the illusion of a large selection, hence the eternal "many things, nothing to wear." If you take away clothes not in size, out of season and what you no longer feel attractive in, the choice will be significantly reduced – and less time will be spent on fees in the morning.
What to buy?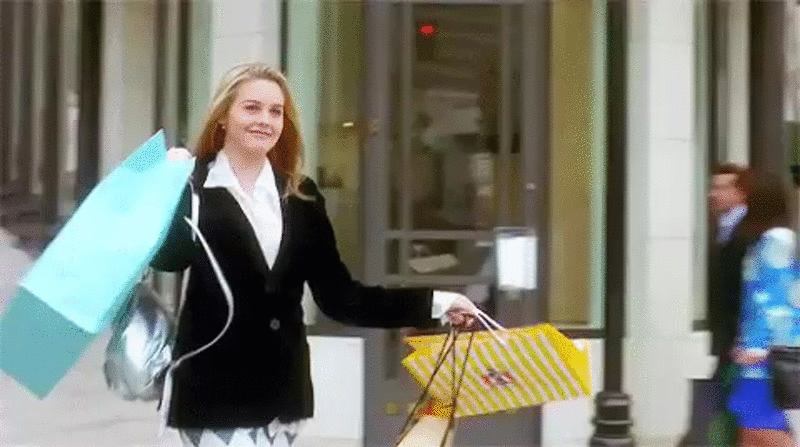 After parsing, you can start compiling a shopping list. Think about why you need clothes? For work, leisure with children, parties? If you spend 80% of your time at work, then there should be more work clothes in the wardrobe than for going to the theater, for example.
First write the list by hand, listing the necessary purchases. After creating a new board on Pinterest, open the sites of your favorite brands and look for things on the list. This approach will allow you to think in sets: you will immediately see how many bottoms the added sweater is combined with, whether the desired bag fits under outerwear, and so on. And after that, you can go shopping, which will now take significantly less time, since the preparatory work has already been done.
Budget allocation
Key things 100% reflect the spirit of your style, they "make" images, emphasize your personality. Such things should have priority, so it's worth investing in them. For example, the key things in my wardrobe are bags and jewelry, they help me make simple images interesting and add the right accents. I do not spare money on them, so my earrings can cost more than a sweater or dress.
Basic things are the simplest in the wardrobe, they reduce the passions, maintain balance and are the basis of many images. You can save on them since they are neutral and it is easy for them to find a replacement. A conventional gray sweater or black trousers are easier to buy than earrings with a unique design or a bag that will not be repeated next season.
Spectacular items are elegant items that we wear for special occasions. In them, too, you can not invest a lot of money, because they will not last long, because we cannot go in one skirt for all the holidays and parties.
To pay or not to pay for trending things is an individual issue. If there is money, then why not? If there are no funds, then you can always find an approximate analogue in the mass market and with a calm soul in a season get rid of what no longer brings joy.
Why contact a stylist?
Each person has a limit of decision-making – we usually spend it at work and in personal life, solving everyday issues. Therefore, when it comes to shopping, we tend to make spontaneous purchases, because well, there's already no strength to think about what we will wear this thing with. Usually, we only have enough for "like it – don't like it." Here is a website "Chesca" where you can get the ideas and purchase stylish clothes.
And a stylist can help, a person who will create a functional wardrobe for you, in which all things will be put together in sets, and which will free your head from planning, searching, styling, drawing up a shopping route.
Parsing a wardrobe with a stylist is a great opportunity to look at your wardrobe in a new way. The stylist can see the potential of things that are not worn and create new sets with them. He/she will explain the modern rules of styling images, as pretty things are often bought, but they add up to ugly sets. After the analysis, you can go shopping and repeat it a couple of times a year, making capsules for the season.
It is important to find "your" stylist – a person with whom your ideas about beauty coincide. Be sure to look at examples of works and evaluate them from your bell tower – do you like this? If a stylist loves oversize, layering, monochrome color combinations, it is strange to ask him to do something bright and tight.