Eid is a celebration for Muslims and is an occasion that is celebrated with utmost zeal and zest. Females all over the world start prepping up for the holy occasion days before Eid itself and make it a thing to look their best on this very day.
A lot of stylish dresses are available for people to choose from. You can find a lot of footwear and a hell lot of other stuff like accessories and new makeup and whatnot. One of the essential things for eid, which is a must-have is Mehndi. You may call it heena, or mehndi, or whatever, but regardless of that, you know it is essential, and Eid is incomplete without it.
If you need to know what the latest Mehandi designs 2021 are, keep on scrolling down.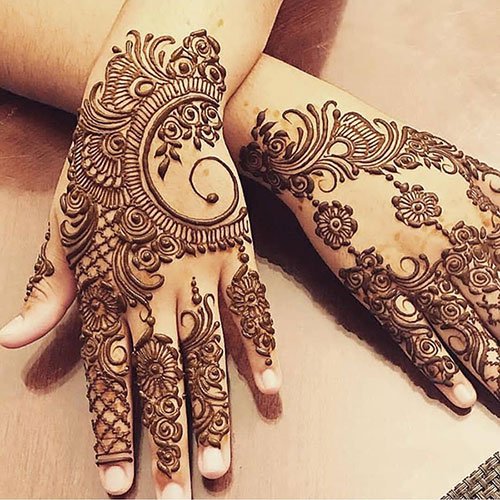 Just looking at this picture, you can know that the lighter the design would be, the more attractive it would seem. The issue with hands wholly covered with mehndi from fingers to wrist or elbow is that no one can make out the design. This is going to be compensated with this season. Light mehndi, preferably just on the fingers is to go for.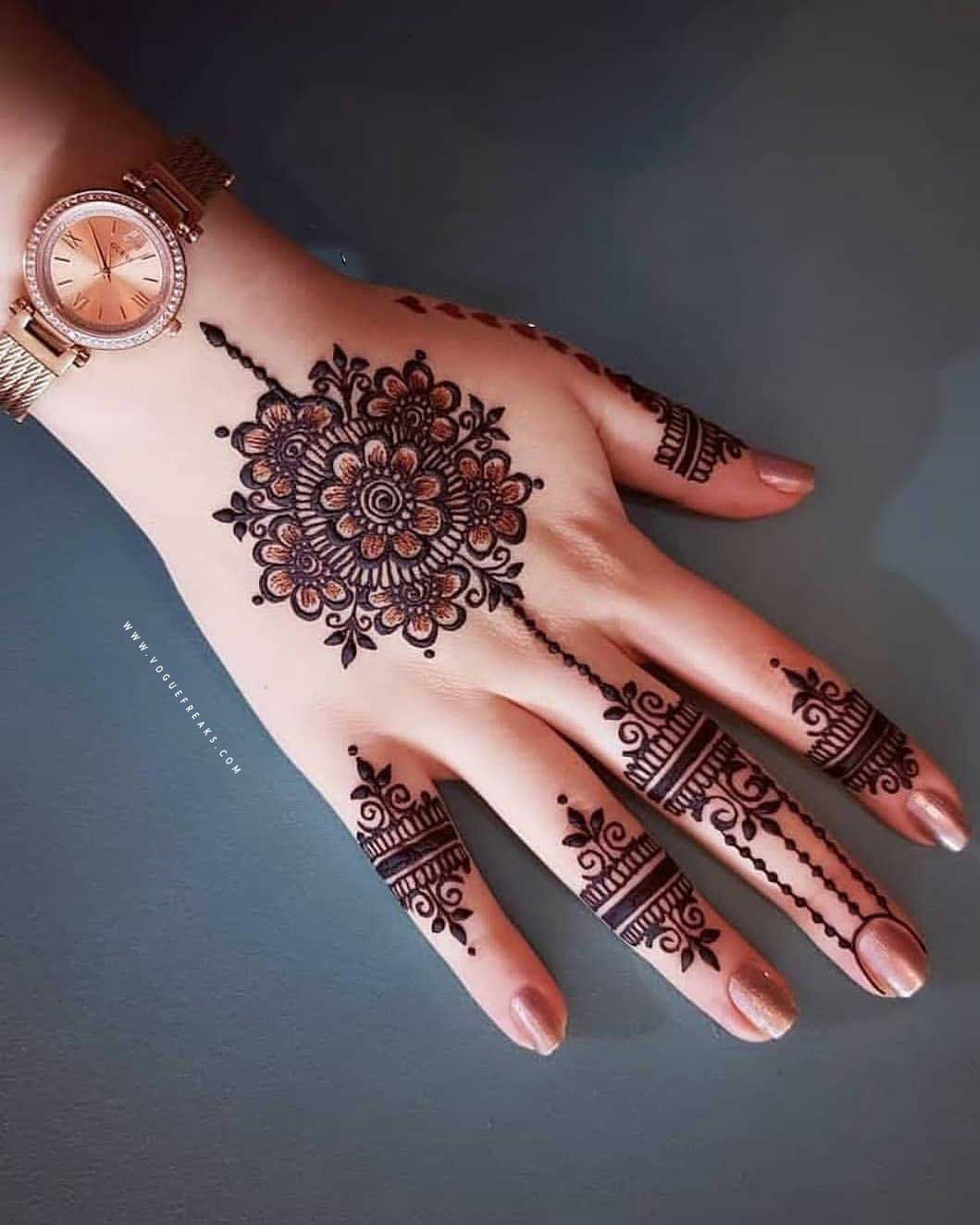 It does not only make it easy for you to get the designs made, but it also is pleasing to the eyes, yours, and the people who look at it too. It also makes room for a lot of rings to be a word without making the single ladies look like they are married. The designs do not necessarily have to be bright and bold. They can be closely drawn and tiny with some flowers or leaves and if not that then just dots or veins.
Simple And Easy Mehndi Design
The designs do not have to be covering your hand or anything like that. You need to have some on your hand.
The image clearly shows what your design could be.
Simple Mehndi Designs for Fingers and Back Hand Provided that you want your design to be a bit more than just on fingers, it still does not have to be too much drama. If the picture you can see that the design is made in an attempt to cover more than just the fingers and is on the entire hand and ending at the wrist in a cuff-styled band.
Gorgeous yet Simple Arabic Mehndi Design
Sweet and Simple Henna Designs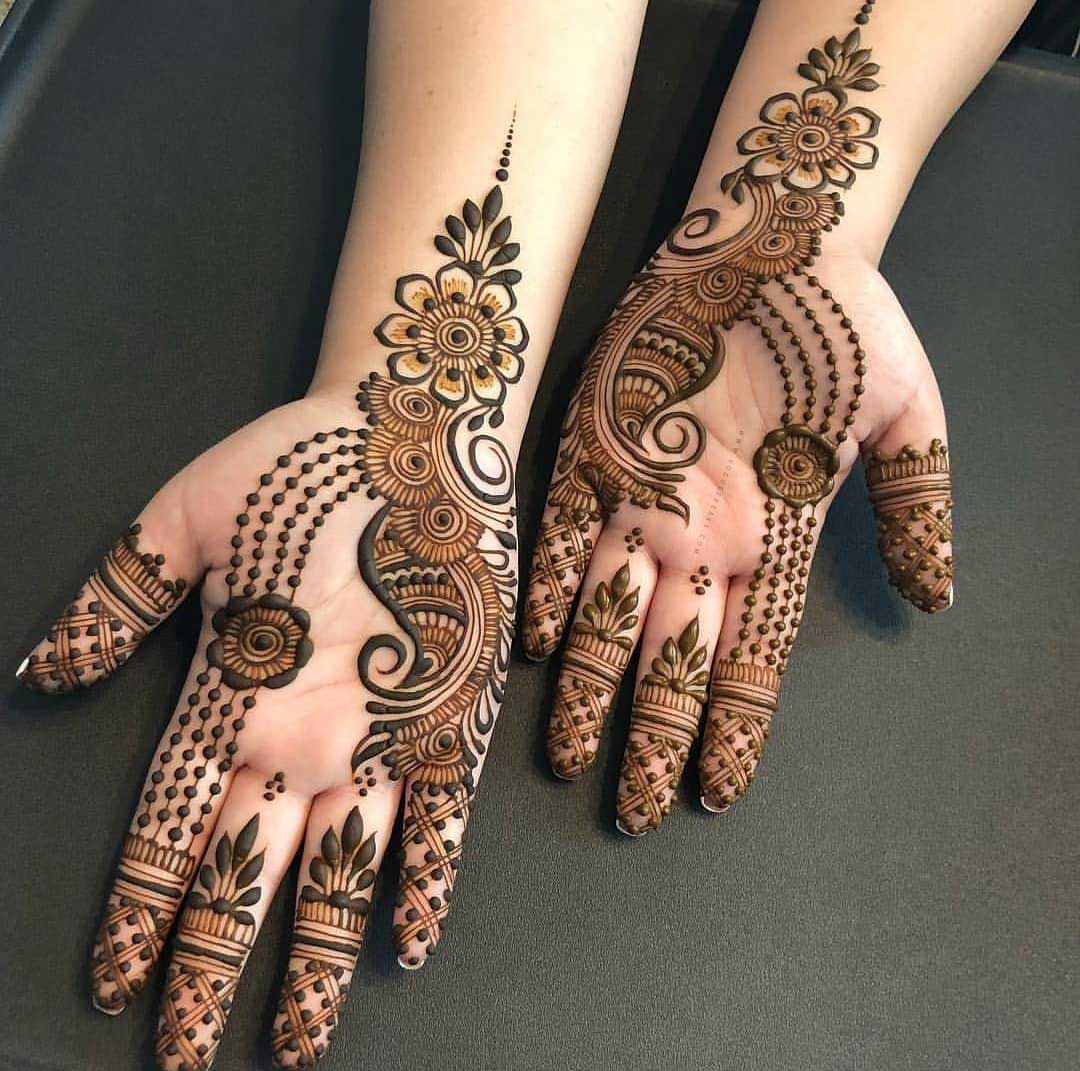 Simplicity and Prettiness Combination
Source Amrita Henna
No-Need Jewelry Mehndi Design
The design is not very closely made but still gives the traditional vibe of mehndi and looks like a mehndi trend for eid 2021 that could be very quickly followed.
Then we have the style that has been around for quite some time, and that is what makes our mehndi look like jewelry worn on the hand. It may also seem like lanterns made in the design, but it could hardly look worse.
Source Pinterest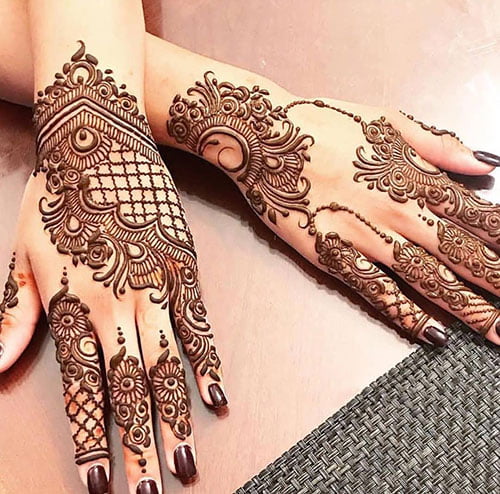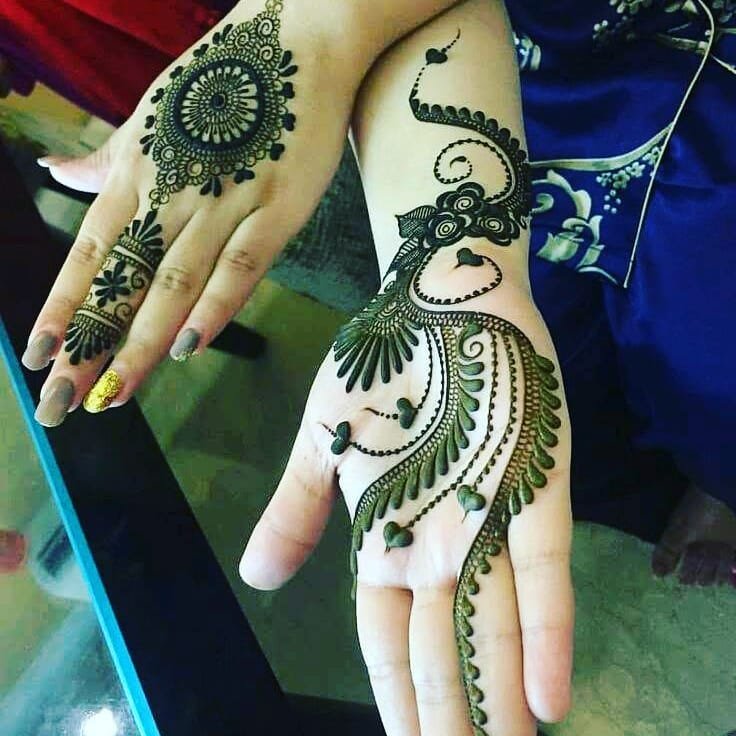 Detailed Mehndi Design
The design on the ring finger, middle finger, and thumb are identical, but the design on the index finger and pinky is where you see the drama. It is made like hangings and pretty vines. The design ends at the wrist with the same band.
The design is very closely made, and such designs are usually made this way, but even then you can see the details made without any problem. It may give you an impression of bridal mehndi designs because these detailed designs are close to every bride.
The most natural easy mehndi design that never goes out of fashion is the "Tikki." It used to be a simple circle made both inside the palm and on the back of the hand with dots all around.
Detailed Pattern with Floral Highlights
Source Henna by Divya
Peacock Mehandi Designs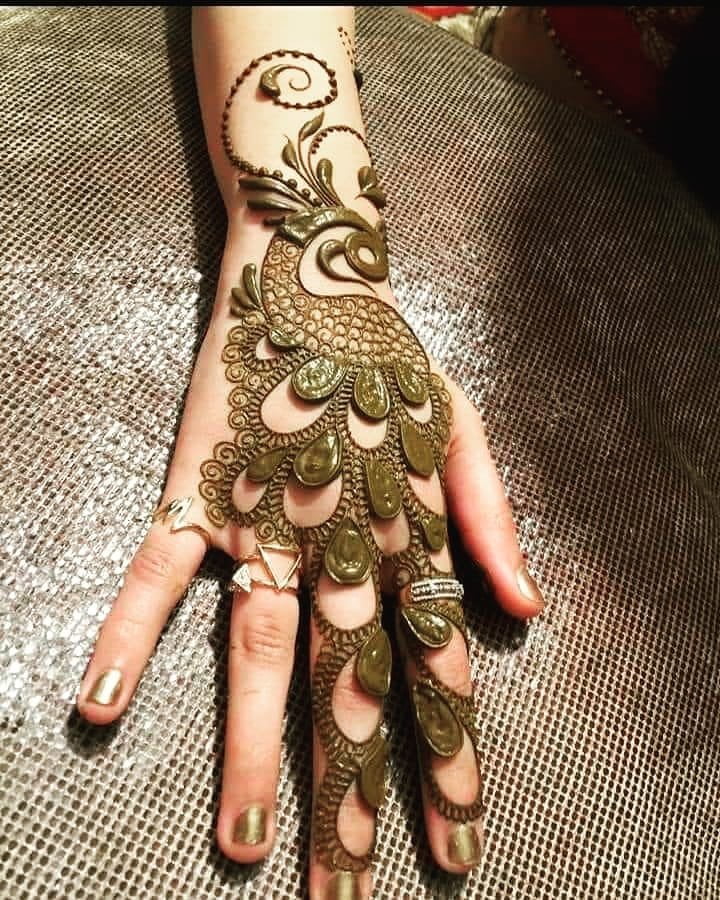 Glove Henna Design
Incomplete Fingers Mehndi Design
Over time it evolved to be a bit more complicated and embellished than before. Instead of just the part around the fingers being covered with mehndi, you can see complete fingers filled with a design that may or may not be made very thin and cramped. The designs can be big and bold. These are the best mehndi designs for the wedding as well.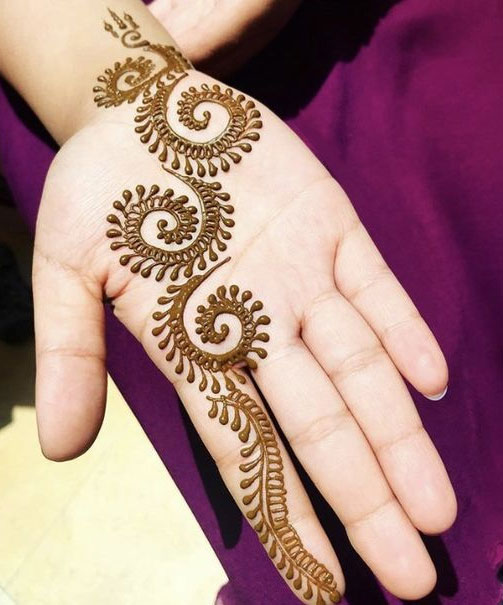 Moving to the central part of the mehndi designs that are the tikki, it's got embellishments to it, it's a lot fancier in the two pictures. You can see the difference as one is a bit just on the hand kind of a thing, and the other is a bit extended and is much fancier than the other one.
Concluding with the trendiest bit for this blog, you might see these designs on the internet, which are a blend of the tattoos and traditional flowers and vines and dots. In both the pictures, you can see a lotus and then a moon which is not made as such in the conventional mehndi designs, but as of now, they are the latest mehndi trend for eid 2021.
These are the designs that you may be able to pull off with jeans and stuff as well as with formal or casual Pakistani wear because of the combination of tradition and chic. As the fingers are left bare, you can quickly move to accessorize your hands as much as you want. You can wear heavy rings and bold nails, and it would not look too much.
Simple Arabic Mehndi Designs
Paisleys Patterns
Sheer elegance with lotus motifs
An intricate trailed pattern
Daisy Trail on the Backhand
You may have seen numerous designs in the above section of the blog. Have you decided what design you are going to have for an upcoming event? Let me add one thing here it's effortless to apply simple mehndi design. All you have to do is to focus on the following video.
Apply these tricks as it is in your hand. There was a time a few years back when applying henna was the toughest job, but now it has been made so simple as you can see below.
Just see this how much this is simpler so don't waste time and learn to apply this today. Get this design now on your hand. Follow these trends, and make sure to look your best on the holy occasion of Eid. As the mehndi would make you stand in the spotlight as if there is no mehndi on eid, what else is there to go on about. :)
Latest Foot (Feet) Mehndi Designs
Here are some simple and easy foot mehndi designs that you can choose for any occasion.
An Arabic Anklet Tattoo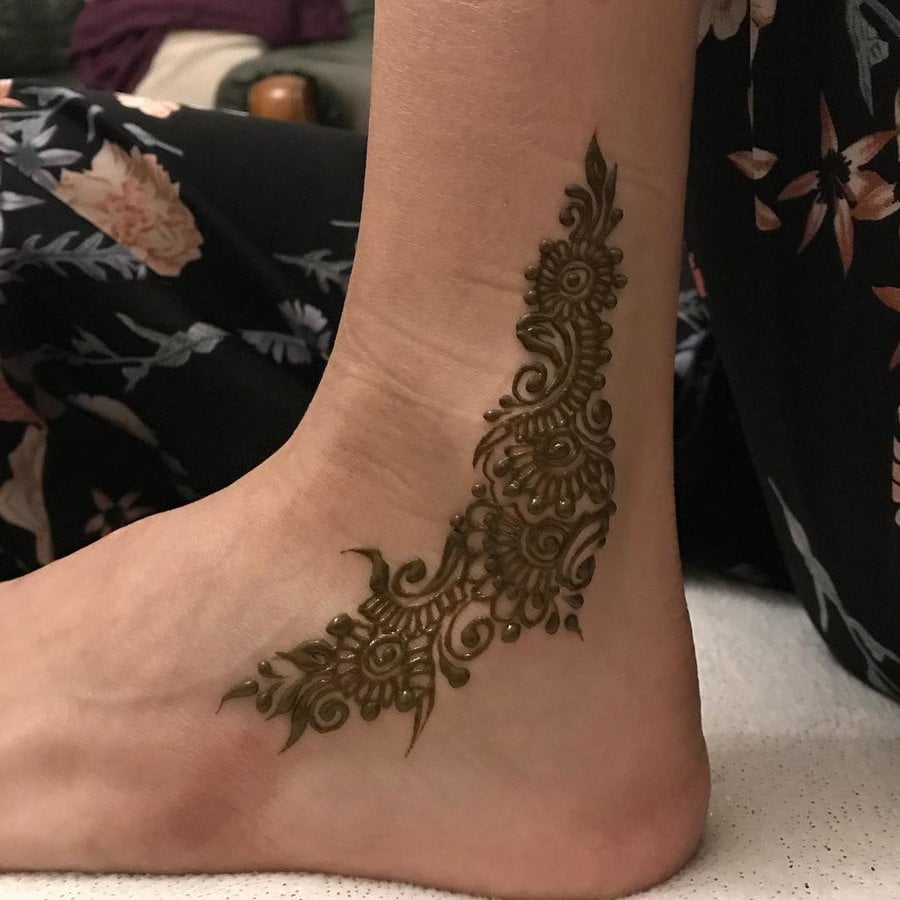 Henna & Mehndi FAQs
How long does it take for Mehndi to dry?
It takes around 30 minutes to dry, however, apply henna for 5-6 hours for best results.
Does lemon juice darken Henna?
Yes, it does!
How can we remove Mehndi?
Mix baking soda powder and lemon juice equally together. Apply mixer on the mehndi and leave it for 4-5 minutes and then wash it off.