Let's begin by stating the obvious – being a woman can be oh-so-lovely. While we're all so different, it's not hard to agree on one thing: a warm bath, makeup sessions with your favorite tunes on, face masks, and fragrant body care can make a huge difference in how you feel in your body.
Now for those who read the list above attentively and realized there's a missing piece – bravo! If having a good hair day crossed your mind, you came to the right place.
Taking care of your hair is like giving your crown a spa day every week! It's important to keep your locks healthy, shiny, and strong to bring out the best in you. And it doesn't have to be a chore. Make it a ritual that you look forward to, and watch your hair bloom.
So, get yourself a Moérie haircare set, pop on some tunes, and let's get pampering!
Wait… What's Moérie?
About Moérie
Get ready for a hair-raising experience with Moérie products! These gentle goodies are perfect for every hair type and are packed with all the natural nutrients your locks could ask for. Imagine 77 minerals, 18 amino acids, 5 vitamins, biotin, and caffeine, all joining forces to give you supermodel-worthy locks. That's right, Moérie's unique formula is like a hair party in a bottle!
Say goodbye to boring hair days and hello to thick, long, and healthy locks. Moérie's products are also 100% cruelty free , so you can feel good about having a blast with your hair.
Moérie Hair Bestsellers
Moérie is here to save the day with its natural and ethical approach to haircare. No more split ends, frizziness, and hair loss – let's replace that with luscious locks!
Their 100% cruelty – free hair growth products are like magic potions, each targeting specific hair concerns. But when used together, they form a powerful spell that will leave your hair looking like it belongs in a Disney movie. And the best part? The effectiveness was confirmed by an independent laboratory, where the test was performed under a dermatology specialist's supervision.
Let's take a closer look at Moérie's hair growth set.
Shampoo
Get ready to turn heads with your stunning tresses – Moérie Mineral Shampoo is the key to unlocking luscious locks! This shampoo contains essential ingredients like cleansing surfactants, moisturizing agents, biotin, B-complex vitamins, Panax Ginseng root, and onion bulb extracts known for their properties and benefits for hair loss prevention and influence on hair growth. Say hello to healthy, strong, shiny hair!
Let's not forget to mention the scent – the subtle aroma of Moérie shampoo, conditioner, mask, and spray consists of a complex of essential oils – lavender, grapefruit, rosemary, and peppermint.
Conditioner
Break up with bad hair days forever with Moérie Mineral Conditioner! This conditioner is infused with a wealth of essential ingredients such as biotin, panthenol, and niacinamide that work as an additional combination to help effectively care for the hair. Plus, it's got a secret weapon – coconut and macadamia oils – to deliver deep nourishment to your locks.
Scented with the same invigorating natural aroma as the shampoo in the Moérie set, this Mineral Conditioner is the answer to all your hair prayers. It'll turn even the frizziest, tangliest tresses into silky, smooth, and manageable locks.
Repairing Hair Mask
Transform your hair into a crowning glory with Moérie Mineral Hair Repair Mask! This powerful treatment packs a punch with nourishing coconut and macadamia oils and hair-conditioning cetearyl alcohol. And that's just the tip of the iceberg.
Get ready to meet the magic trio – caffeine, arginine HCI, and Butyrospermum Parkii (Shea) Butter, which work together to repair and revive damaged hair. These little powerhouses go above and beyond what a typical conditioner can offer to finally have the hair of your dreams – healthy, strong, and radiant.
The hair mask is of thick texture and is rich in concentrated ingredients. It is intended for an intensive effect on the hair.
Ultimate Growth Spray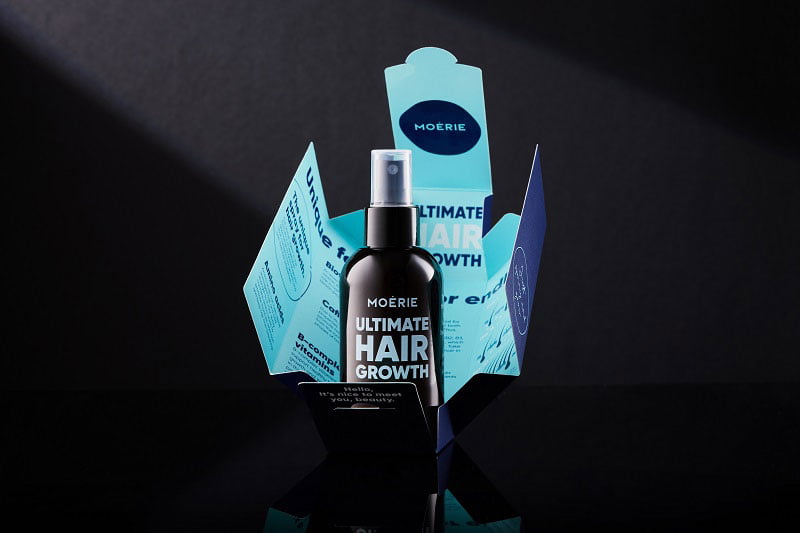 Get ready to grow your hair to new lengths with Moérie's Ultimate Mineral Growth Spray! This game-changing spray is packed with a secret blend of hair-loving ingredients, like caffeine, biotin, niacinamide, and rosemary essential oil, to give your hair a growth boost and keep it healthy and strong. It strengthens your hair, makes it more resistant to breakage, makes hair look dense, and restores volume.
No more waiting for what feels like forever for your hair to grow. This proven, effective hair growth spray is super easy to use and can be incorporated into your haircare routine with just a few spritzes. You'll love how the essential oils give a beautiful scent to your hair, leaving it smelling as good as it looks.
Is Moérie Worth It?
Moérie is all about bringing you natural, ethical solutions that make your hair look and feel amazing. Moérie uses naturally-sourced ingredients, so you can trust that you're doing right by both your hair and the planet.
Part ways with harsh chemicals like SLS, GMO, silicon, and paraben, and get ready to experience healthy, gorgeous hair. Moérie is 100% cruelty-free, so you can feel good about your choices.
And the best part? Moérie makes it easy to find the perfect products for your hair with a personalized quiz on their website. No more endless scrolling and guessing games – Moérie knows what your hair needs and will guide you to the products that will give you the best results.
Not only will Moérie help you achieve your hair goals, but incorporating a self-care routine around your hair will also make you feel pampered and refreshed.
Moérie Membership
Imagine waking up every day to silky smooth hair that shines in the sunlight. Now, imagine that feeling of confidence and happiness that comes with having great hair every single day. That's what a consistent haircare routine can do for you!
Think of your hair as a garden – with the proper care and attention, it can bloom into something beautiful.
That's where Moérie comes in. By subscribing to their service, you're giving your hair the love and care it deserves. With exclusive discounts, free shipping, and a complimentary ebook on hair wellness, Moérie has all your hair needs covered. Plus, the peace of mind that comes with knowing you'll have consistently great hair days is priceless.
Moérie Promotions and Discounts
Welcome a stress-free hair routine into your life with Moérie! Right now, Moérie haircare products are on sale for the winter season with discounts of up to 50% off – what a steal!
But wait, there's more! When you make a purchase, not only will you score discounted products, but you'll also receive complimentary free shipping and a hair growth guide. That's right, no more worrying about extra shipping costs – Moérie's got you covered. And the hair growth guide? It's like a treasure trove of hair knowledge, with all the tips and tricks you need to achieve beautiful, healthy hair.
With the warmer seasons just around the corner, now's the time to take care of your hair. The sun can be harsh, causing it to dry out, but Moérie's high-quality, natural ingredients can keep your hair hydrated and looking its best.
This limited-time offer won't last forever, and your hair deserves to be pampered. Give it a try – your hair will surely appreciate it.