Painting your nails may seem easy but there's more to it than you know. It might not be a big deal, but if you want to have beautiful hands and nails, you should do it the right way. There are many nail care tips that people tend to overlook because they think they're not important. However, taking care of your nails makes a huge impact if you want to flaunt your new nail art design.
If you have a collection of nail polish bottles, then read the following nail painting tips to know how you can use and benefit from them!
1. Forgetting to Wash Your Hands Before Applying
If you have noticed, nail technicians wash your hands and even apply nail polish remover even if you don't have. This is because our fingertips produce natural oils and will usually transfer to the nails. If you don't remove them, they will prevent the polish from attaching properly to your nails. The best way to address this is to apply a base coat then let it dry completely. Wash your hands after to make sure that all oils are removed from your hands and nails.
2. Not Buffing Your Nails
The natural oils in your fingertips and nails will build up if you don't buff your nails. You can compare nail buffing to brushing your teeth. It will eliminate ridges and will make your nails brighter and healthier.
3. Applying too Much
Too much will take it longer for it to completely dry, resulting in bumpy nails. Doing many strokes is a no-no when it comes to applying nail polish. Load enough polish on your brush that will cover your entire nail in a single coating. Stripe your nails three times, first on the middle then twice on each side. Let them dry and repeat the process until you reach your desired shade.
4. Applying the Second Coat Right Away
When time is not on our side, we tend to become impatient. Applying nail polish takes longer to finish and sometimes, we are tempted to apply the second coat without allowing the first one to dry. This doesn't give the solvents found in the polish to fully evaporate. Always remember that the longer you wait before applying the second coat, the better you get.
5. Filing Your Nails in Various Directions
If you don't file your nails in the same direction, they'll be more prone to breakage and peeling. The right way to file your nails is by running the file gently across your nails in a single direction. Make sure to start at the outside edge then go toward the center.
6. Not Applying a Top Coat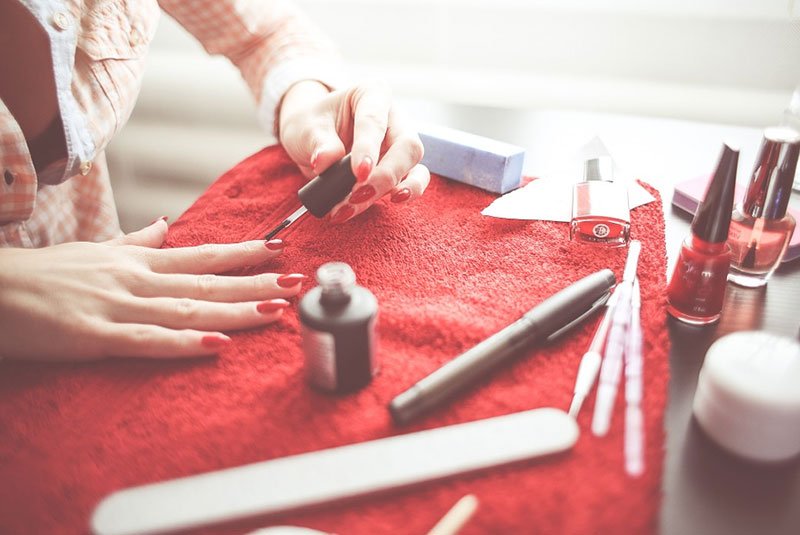 The simple reason for this is your nail polish won't last long if you don't apply a topcoat. It will likely chip within the day. Also, your polish will not look as vibrant as it should be if there's no topcoat. If you're in a hurry, you can look for high-quality topcoats that have a quick-dry feature.
7. Not Giving Importance to the Top Coat
Aside from not applying a topcoat, applying a sloppy one is equally horrible. This is a common mistake among women as they assume that topcoats are not that noticeable. Well, they are once they are completely dried up. Messy top coats will also create ridges which will make your nails chip faster. So when applying topcoats, always be patient and make sure you apply them properly.
[ts_powerlink admin-label="Powerlink" element-icon="icon-ticket" image="4557|https://voguefreaks.com/wp-content/uploads/2018/12/Makeup-Rules-150×150.jpg" title="Top 12 Makeup Rules Needs to Follow" button-text="Recommended Read" button-url="https://voguefreaks.com/top-12-makeup-rules/" reveal-effect="none" reveal-delay="delay-500″ element-type="powerlink" custom-classes="" lg="y" md="y" sm="y" xs="y" ][/ts_powerlink]
8. Neglecting to Exfoliate Your Cuticles
You might not be aware of this but cuticle removers and cuticle oils are not the same. Some people use them interchangeably, which shouldn't be. Cuticle removers function as exfoliation for the nail beds, while cuticle oils are for moisturizing.
Exfoliate your cuticles by massing a cuticle remover or treatment into the cuticles, then push them back gently using an orange-wood stick. This will help in getting the cuticle off the nail plate. Moreover, it will help in removing dead skin cells properly and safely.
9. Forgetting to Seal off the Edges
Chipping usually happens at the tip of the nails but many people still forget to apply an extra topcoat on that area. To avoid chipping, apply top coat horizontally to the edge of your nails after applying the last coat. Let it dry then swipe another topcoat one more time.
10. Dipping Hands in Cold Water for Faster Drying
Many assume that dipping your hands in ice-cold water will help make the drying process faster. However, this is not what actually happens. It may seem that it helps in drying but it's just changing the consistency of the nail polish. Another popular belief that you should stop following is blowing on your nails to make them dry faster. This will only produce bubbles to your polish, which is unattractive to look at.
11. Not Applying a Base Coat
This is basic knowledge of nail painting. You're most likely aware of this but it's still important to note. Many people still tend to forget to apply base coats and will directly apply their chosen nail polish. A top-quality base coat will promote healthy and long nails. Other benefits of base coats include protecting from stains and smoother application of nail polish for lower chances of chipping.
12. Forgetting to Moisturize When Changing
You should follow a proper routine for taking care of your hands and nails. It's very important that you keep them hydrated at all times, especially if you're using them often like typing, doing laundry, etc. It's also recommended that you apply cuticle oil to your hands and nails every two days. This will promote moisture and help prevent nail splitting and chipping.