Party season is on and on throughout the year and you may have got numerous invitations of different cocktail parties. If we put aside the whole excitement then many of us you would find in a fuss where it's difficult to decide what to wear at the party? Women and men are both in the same trouble, but now people have managed to dress up as per the dress code. In this blog, we are going to share some of the exciting ideas for cocktail attire for men. For the night parties, they can wear darker suits and if the party is going to be held during the day, then different colors and patterns are appropriate as per the theme of the party. Check out the following designs.
Cocktail Attire For Men – The Comprehensive Men's What To Wear Guide
Men In Grey
It has been seen men in black find their selves more classy and stylish but wearing a grey coat and white pants is also an attractive combination. Check out the classy appearance of this outfit. It will make you more elegant for the parties.
Attractive Midnight Blue
Blue is one of the favorites of everyone and men look dam gorgeous in it. See the blue suit with a cadet blue tie is giving men major fashion goals. Chic and classy appearance with a short beard and perfectly trimmed hair you can grab the attention of everyone.
Cocktail Outfit For Fall
The fall season is the most awaited season for parties and men don't compromise over their look so give yourself a dapper look try out this outfit for any fall party by wearing this houndstooth blazer cocktail party.
Men in Light Blue
Well, we shouldn't be so judgemental about dressing because when it comes to men where they have to give a stylish appearance to their selves by carrying the elegance factor smartly. You may have seen men wearing mostly dark colors for parties, but now people are opting for light colors as well.
Striped Cocktail Outfit
Men have been seen doing different experiments with their dressing and such things keep them in the fashion spotlight. I believe a striped shirt with a green tie is enough to bring out your appearance. Pocket square will also add more elegance to your dashing look and without this, you will look incomplete.
Cocktail Attire For Men In Dapper Blue
Numerous designers keep on inventing interesting ideas with blue and now the vast range of blue makes men dapper. Perfect choice for parties. Give an exciting shot of blue with other exciting colors.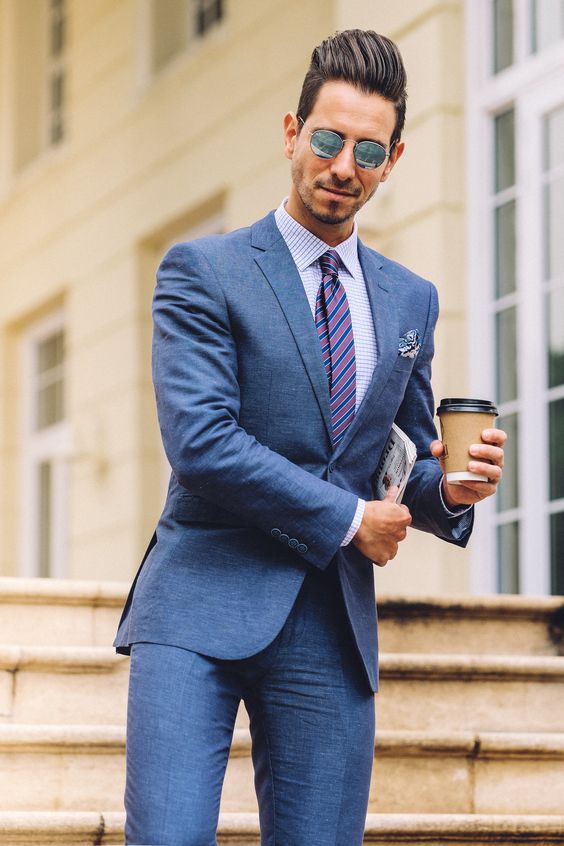 Men in Dashing White
Who else doesn't agree with us that men don't look dam gorgeous in white? You may have multiple white options but do give it a try with a dust color tie. The stylish haircut will change the style game and exciting color combinations make men more dapper than ever.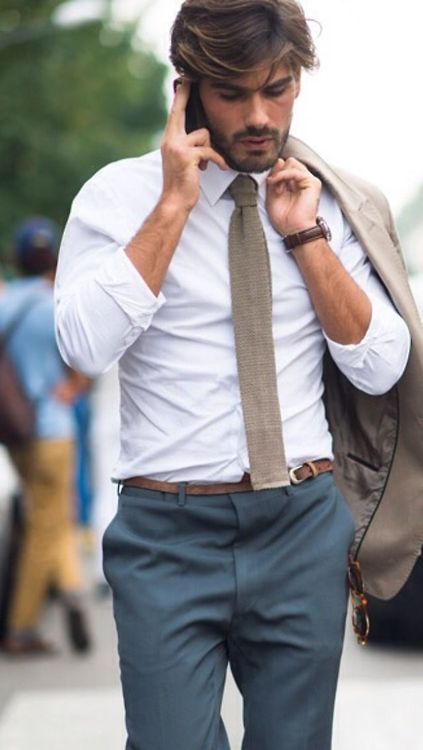 Cocktail attire for men in summers
Summer parties give us a chance to bring out our appearance in an elegant way. It's essential to look cool in exhausting summers as well. Dark blue jeans with a white t-shirt and blue blazer are pretty enough to spruce you up in summer.
Cocktail attire for the garden party
How can we forget the men looking for a garden party? Well, we have brought a glimpse of winters for you as well here. Navy blue blazers with colorful pants and bow ties are giving us garden party fashion goals. Have you tried this ever before? Do tell us in the following comments.
Don't miss: Useful Summer Skincare Routine for Men
Do's & Don't for Cocktail Attire for Men
Dressing up yourself in a perfect outfit is not enough. We need to pay attention to some of the important things that keep us always classy and stylish at parties. In this section, we have brought some useful tips for cocktail parties that we need to consider
Get to know about the Fashion interest
It won't take enough time, but you people need to know about your fashion interest. Do you want to go with a classy or modern touch? It's imperative to figure out this first because we know a classy outfit will be based on typical black or custom tux and stylish attire will have a jacket on the torso and sleeves
Wear a necktie or bowtie
A necktie or bow tie can bring out the appearance of your outfit. It's imperative to wear. Nowadays people are seen to wear a tie in different fabrics like woolen, satin velvet, silk, and much more. Keep the classy or modern look in your mind for the best appearance.
Don't miss: Achieve fitness Resolution with These Jogging Tips
Selection of quality shoes
The whole dress appearance will get wasted in a second if you are not wearing quality shoes. The right choice of shoes is important because they can make a dress. Although different experiments have been seen with cocktail outfits but do it in the right way.
Don't wear a worn shirt
If you are wearing an outfit that you have already worn before, then do check the discoloration at the collars and cuffs. Don't wear it if you find this noticeable. Make sure you have checked out the shirt before buying as well because a few pieces can have such issues.
Go for formal attire at Evening Parties
This one should be in consideration while wearing formal attire. You can go for a smart business/casual look that is much more appropriate. It is suggested that do check the dress code once may b they have stated something optional. So get a better understanding.
These are some tips and styling ideas for cocktail attire for men that they shouldn't miss for styling up at cocktail parties. Designers' collections are available to give you the best in you. Always select wisely. Don't go for false color combos because it will ruin your look at a glance. Try to take out the best of yourself while dressing up yourself.
Well if you want to try some cool casual stuff, you can try Quantum Realm Hoodie this is perfect to wear.