We all are addicted to black and many of us love to give a touch of black with every outfit. The black color is the basic element of every closet and I believe haute couture doesn't make your fashion statement unless you don't have basic pieces in your wardrobe. Black jeans come in different styling ideas and it's up to you how would you carry for casual or even formal. If you want to make it a fashion statement then create a chic and stylish look to mesmerize everyone. There are hundreds of ways to style up black jeans and In this blog, we are going to explore some styling ideas that would give a promising look.
With blue off shoulder top
The off-shoulder top is good to go with black jeans. We all know the Blue color is the favorite of majority one and if you people are looking for some summer styles then this one would look best with wedges or heels.
 With Long Sweater
Black jeans with the long sweater are good for casual days when you just want to keep yourself away from the busy schedules and want to stroll on roads especially for weekends then this casual appearance is the one that everyone is looking for.
With Denim Jackets
We all are in love with different pieces of denim and black color is convenient to pair with denim jackets. It will not only give you only a promising look but you can wear this for casual as well.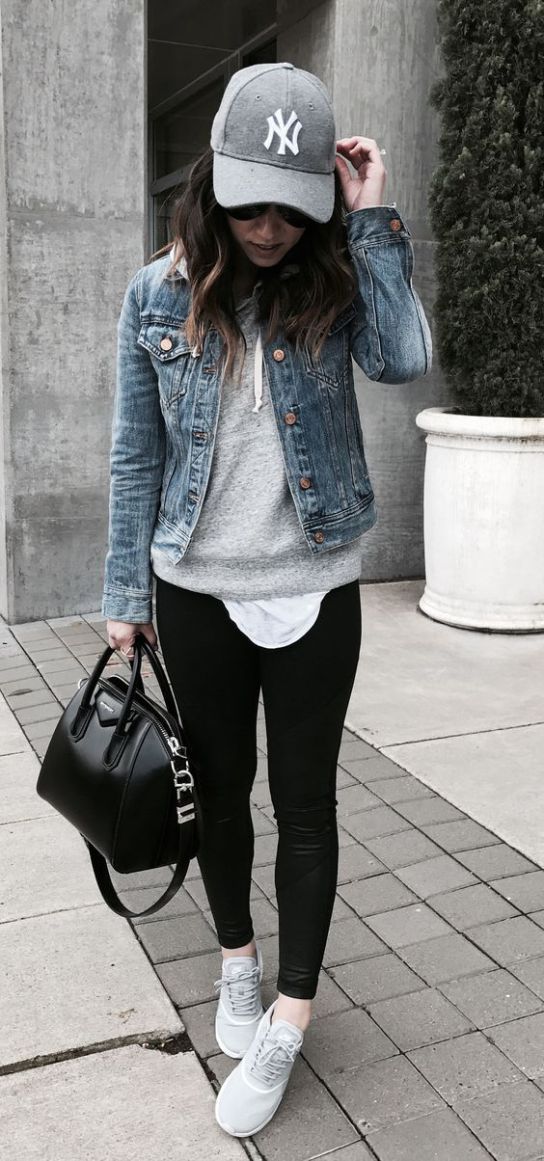 With Leather Jacket
We can't miss out the style while traveling and black jeans with a leather jacket and grey tees will give you a super gorgeous airport look as you can see in the following picture. Did you ever plan to give yourself such an appearance?
 With Striped Shirts
You can opt this look for your workplace and black jeans would give a decent look with striped shirts. If you are going on meeting or at any conference then women can pair black jeans with any color of stripes for elegant looks.
With Whites
After all, discussing all styling ideas of black jeans how can we forget whites? Do you know white gives you a super cool look for all seasons? Wear a white tee shirt with a high bun or open hair and pair up black jeans. Isn't going to give a smart look to you? Try out this either in summers or in fall for a super cool look.
With Round Neck Sweater
We can pair black jeans with a mustard sweater in upcoming fall. Opt any of your favorite color sweaters to keep yourself stunning and cozy. Round neck sweaters give a spectacular look to ladies and girls of all age groups and we are absolutely loving this.
With Black Sleeveless
Who else don't want to go out in summers sleeveless? If you want to give a sexy look the sleeveless black with black jeans is the one that is for you. All Black is also loved by many ones and for different and crazy look try out this yellow sandal and long chain bag for making this a fashion statement.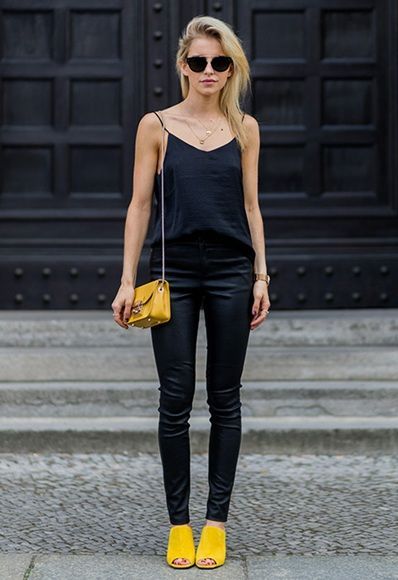 With Yellow Heels
There are so many things to do in summers and trying out something new is the perfect choice for everyone. Yellow heels with black jeans are not so crazy but such attempts would bring out different in you. Haven't you tried out these yellow pumps in this way? It is glamorous and you can't miss out this in summer parties.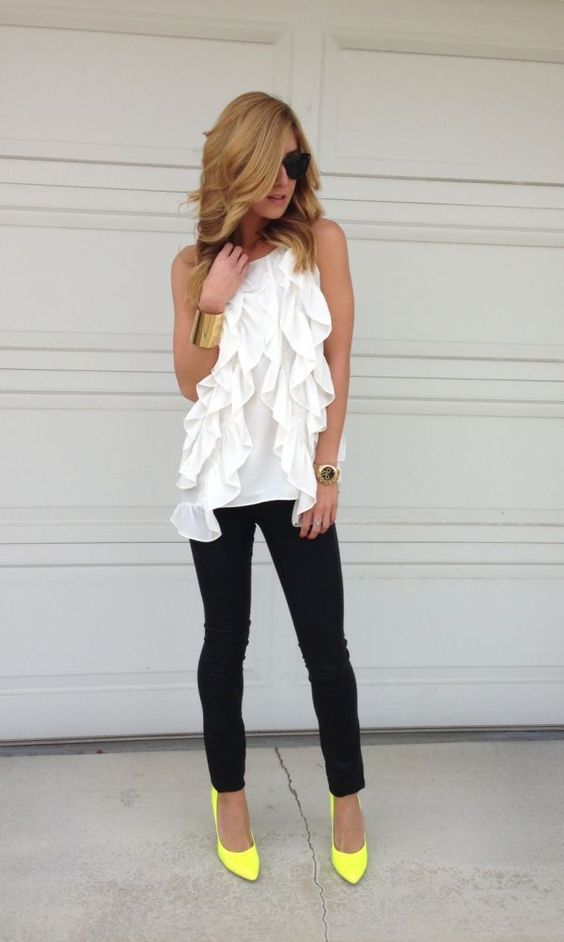 With Checkered Shirt
Black jeans, Red checkered shirt, sunglasses, and High ponytail, OH MY GOD is there something that you have missed out? I don't think so checkered shirt would look best with any of the other colored jeans. Try this out and give yourself uber cool look for your everyday.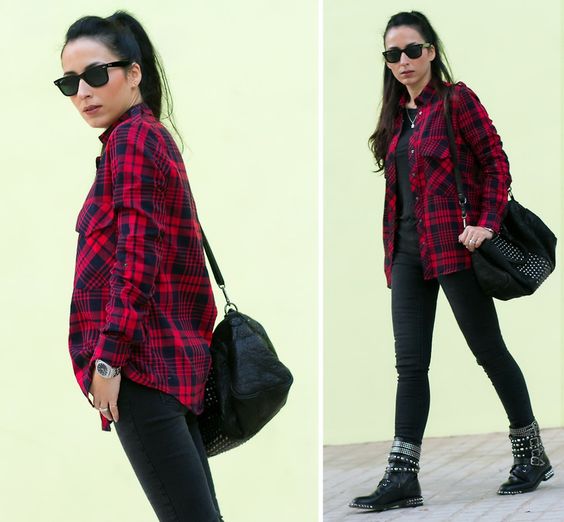 With Floral Duster
Florals Duster coats are ideal for summers and spring season. If you are going for a night out then adorn this floral coat with black jeans. It is best for a casual look. Best way to glam up yourself even in a day as well.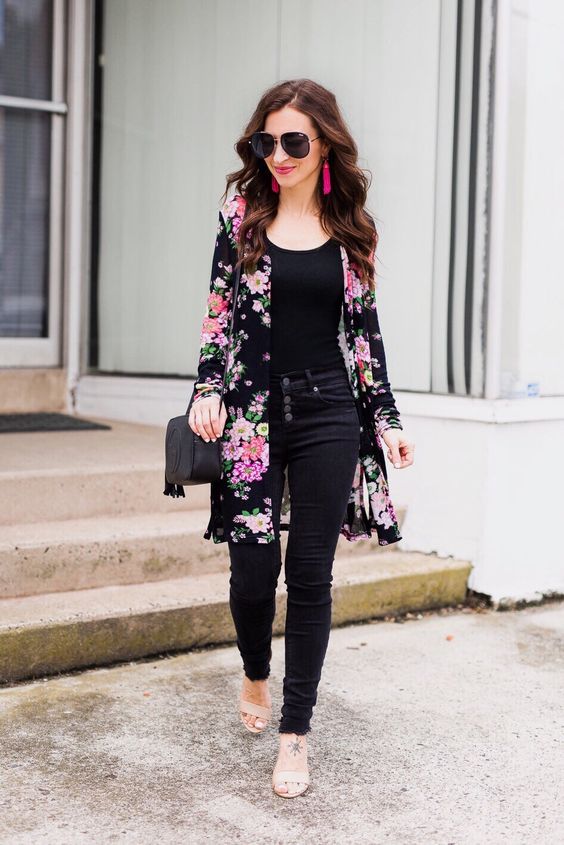 With Mock Neck Blouse
It's difficult to decide what to wear for a day out and when we come across such unique and different things then we definitely want to give ourselves a try. No one can resist black jeans and if it is with mock neck blouse then don't you think it will change your style game? Do try this kinda outfit.
With Blazer
Are you business women? Then you must know how to well dressed. Importance of black jeans I believe is better known to business ladies who want to give their selves a glamorous appearance at the workplace as well. Here check out the blazer with jeans to give you a stunning appearance.

These are some top-notch designs that we have gathered for you to dress up yourself with black jeans. Whether you go to a day out, business meetings, parties or anywhere this will keep you outclass and you would stand out everywhere. If you haven't used black jeans in such a way then adorn yourself with spectacular designs.
Don't Miss Out The Following Ones :)
How Can We Adorn Ourselves With Crazy Sequin Outfits?
Latest Footwear Trends for Summers